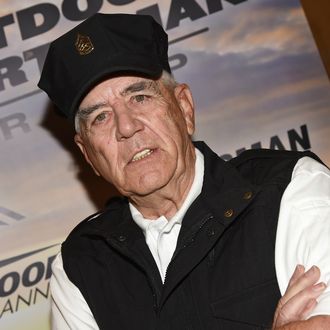 Ermey.
Photo: Ethan Miller/Getty Images
As announced by his longtime manager Bill Rogin on social media, actor R. Lee Ermey has died at the age of 74 due to complications of pneumonia. Best known for his turn as Gunnery Sergeant Hartman in Full Metal Jacket, a role that earned him a Golden Globe nomination for Best Supporting Actor, Ermey was himself a staff sergeant in the U.S. Marine Corps and was later named an honorary gunnery sergeant.
Nicknamed "The Gunny," Ermey was a talented character actor who appeared in a number of other films, including Apocalypse Now, Se7en, Mississippi Burning, and Prefontaine, and provided voices in animated projects like SpongeBob SquarePants and Toy Story, in which he voiced plastic army sergeant Sarge.