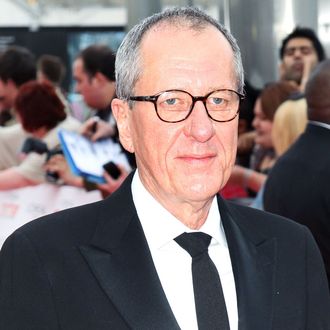 Geoffrey Rush.
Photo: Dave Hogan/Getty Images
Months after resigning as president from Australia's screen-industry academy due to what he called "unjustifiable" reports of inappropriate behavior, Geoffrey Rush is now suing Australia's Daily Telegraph for defamation. Per Deadline, Rush's lawyers have filed a suit against the newspaper and journalist Jonathan Moran for reporting on the actor's alleged inappropriate behavior during a production of King Lear at the Sydney Theatre Company in 2015. (Rush has denied the claim, and says he was not made aware of any complaint at the time.)
As a result of these articles, Rush is now "virtually housebound," thinks his acting career is "irreparably damaged," and has endured "tremendous emotional and social hardship" while in public settings — in addition to eating little food and having trouble sleeping. "The applicant has found that as a direct result of the publications he has been constantly associated in Australia and internationally with the #MeToo movement," his lawyers wrote. A Sydney court will likely hear the case in December.