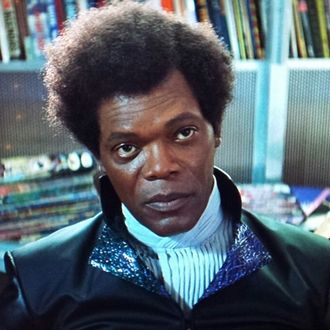 Photo: Touchstone Pictures
A first trailer exists for M. Night Shyamalan's next movie, Glass, but if you weren't at today's CinemaCon presentation for the film in Las Vegas, you don't get to see it — yet. Glass is a continuation of the cinematic universe Shyamalan established with Split, which (spoiler alert!) proved in its final frames to be a sequel of sorts to Unbreakable, the director's toned-down superhero movie from 2000. According to reports from inside the convention room where the trailer debuted, Sarah Paulson appears as a psychiatrist named Dr. Ellie Staple. In the trailer she is discussing the delusions experienced by three patients convinced they've got superpowers. Those patients are David Dunn (Bruce Willis), Elijah "Mister Glass" Price (Samuel L. Jackson), and the many personalities living inside the head of Kevin (James McAvoy).
As Entertainment Weekly reports, Dr. Staple explains to her patients that, "The three of you have convinced yourselves that you have extraordinary gifts, like something out of a comic book." Kevin's matronly alter Patricia apparently makes an appearance in the group-therapy session to condescend to Dr. Staple, and the Beast emerges to assert that he is indeed a super-being of some sort. Elsewhere in the trailer, Glass suggests to Kevin that the two of them team up, so they can demonstrate their abilities to the world, and Casey (Anya Taylor-Joy) pops up in — where else? — a comic-book shop. It sounds like she has an actual friend with her this time, which is nice to hear. Upon presenting the trailer, Jackson apparently said to the crowd, "It's about time I got the title role in my own motherfucking movie," a comment that will sit heavy in the hearts of now-dismissed Shaft fans across the land.