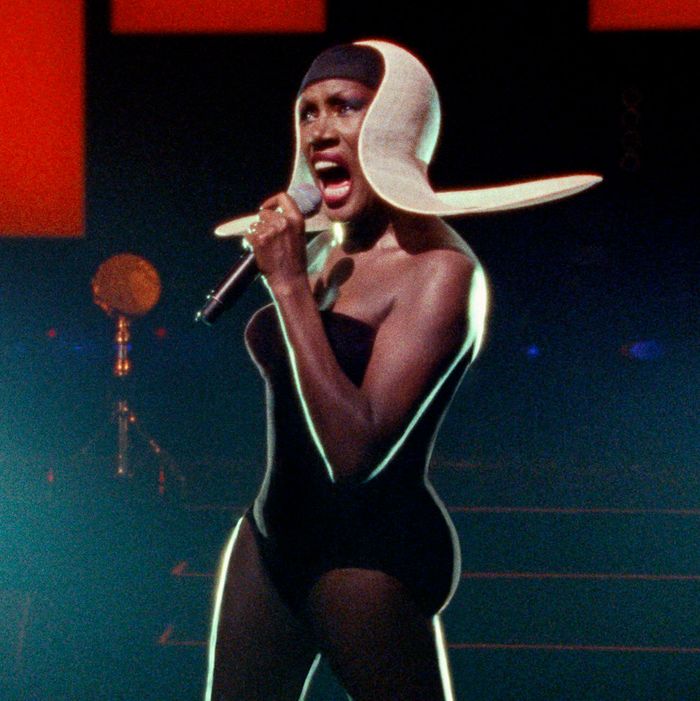 Grace Jones: Bloodlight and Bami opens with about as fine a welcome as you could ask for: striking 35mm footage of the disco icon during her 2009 world tour, some 60 years old and stalking the stage in a gold skeleton mask and a billowing midnight-blue cape. It would appear to be a proper setup for Sophie Fiennes's documentary portrait, which seeks to emphasize Jones as she is here and now (or rather, the decade or so ago when the film was shot), every bit as full of vigor and vision as she was when she set off on her boundary-pushing recording career in the 1970s, though living in a world where much has changed.
Staggeringly, then, the film immediately falls into the weeds in a way that almost seems more difficult to do for a subject of this magnitude than turning out something merely decent. Fiennes, following Jones for four years during the recording of her 2008 album Hurricane in Jamaica, and her subsequent world tour, has created something so elliptical that it ceases to have a shape. Happily eschewing talking heads, voice-over, and try-hard motion graphics, but also chucking out any sense of style, momentum, or context along the way, it's nontraditional to its own detriment, and leaves you wondering what the filmmaker — given covetable access and nearly a decade of postproduction — set out to make.
On the one hand, I'm relieved that Bloodlight and Bami isn't the kind of film wallpapered with middle-aged critics and/or Pharrell (it's always Pharrell) offering platitudes about what a game-changer Jones was. On the other hand, its utter lack of context feels like a dare — there is no archival footage, no old photos, not even passing glances at her seminal work with photographer–graphic designer Jean-Paul Goude — though Goude does show up for a photo shoot, and the two reminisce about their love affair. But if you're a newcomer to Jones, good luck knowing who the hell the French guy is, and why you should care.
Fiennes's approach has a few moments where it suits the material, the most memorable being a painful, hilarious episode involving a French TV appearance gone horribly awry. Jones, as imposing as ever in a face-shrouding Philip Treacy creation, is made to perform in front of a live studio audience, surrounded by pinup-model backup dancers in marabou bikinis. Jones, looking, as she remarks, like "a bug from outer space," couldn't look more out of place, both in the neon-pink studio and contrasted with the regressive, conservative version of what passes for sexy in our new millennium.
If the documentary can be said to have a through line, it's Jones's insistence on her own unconventional pursuit of pleasure and integrity, even as the rest of the world has mellowed out considerably since her heyday. In fleeting glances, that alienation is keenly felt. If you had to watch all two hours of the film just to witness Jones take a solo Champagne breakfast at a hotel in Paris while wearing nothing but a fur coat, so be it, for lifestyle porn purposes alone. But that scene is also incredibly melancholy, with Jones, just out of bed and already tipsy, waxing poetic about the loneliness of standing on a stage by one's self and still holding an audience captive.
Unfortunately, there are also long stretches where we're looking at the backs of people's heads, or trying to make out poorly recorded dialogue in the studio and at family dinners that feel barely, if at all edited. Is this a strictly fans-only affair? Perhaps, but then I'd like to think Jones's fans — who show up at different points of the doc in all their ardent dedication and stylishness — deserve something sharper. Armed with what appears to be a standard-def camcorder, Fiennes tries for unretouched intimacy, contextualizing Jones as both a family woman and a superstar. But during the many scenes back home in Jamaica, blessed with the lively Jones clan as subjects, the director doesn't have any idea what to do with her camera.
In the end, we learn more about Jones from the concert footage, which is gorgeously shot and punctuates the film with ingeniously staged renditions of "Love Is the Drug" and "Pull Up to the Bumper" as well as her newer material. Watching her vamp and crash her cymbals and pour real sweat and tears under the brims of her impossible headpieces reveals a side of a legend that's unafraid to be more human, and all the more impressive for it. But that concert is Jones's production, not Fiennes's.