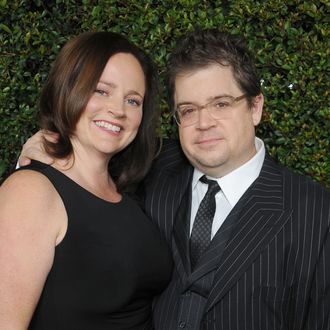 Michelle McNamara and husband Patton Oswalt.
Photo: Gregg DeGuire/2011 Gregg DeGuire
True-crime fans will have already burned through Michelle McNamara's I'll Be Gone in the Dark: One Woman's Obsessive Search for the Golden State Killer. The nonfiction hit was published earlier this year, and recounted author McNamara's personal obsession with identifying the rapist and murderer she dubbed the Golden State Killer. Those who haven't are welcome to sit back and wait for for the show. But really, how are you going to wait that long?
According to Deadline, HBO Documentary Films just acquired the rights to I'll Be Gone and intends to adapt it as true-crime docuseries. The book recounts both the dozens of crimes believed to have been committed by one as-yet unidentified individual in California during the '70s and '80s, as well as the author's work on her website TrueCrimeDiary.com, and an earlier murder that inspired her interest in unsolved crimes. The book was published posthumously after McNamara's sudden death in 2016, having been completed by her researcher Paul Haynes and colleague Billy Jensen.
McNamara's husband, comedian Patton Oswalt, will executive produce and said of the project, "HBO taking on this story will advance the passionate pursuit that Michelle shared with dozens of men and women in law enforcement — to solve the mystery of one of California's most notorious serial killers."