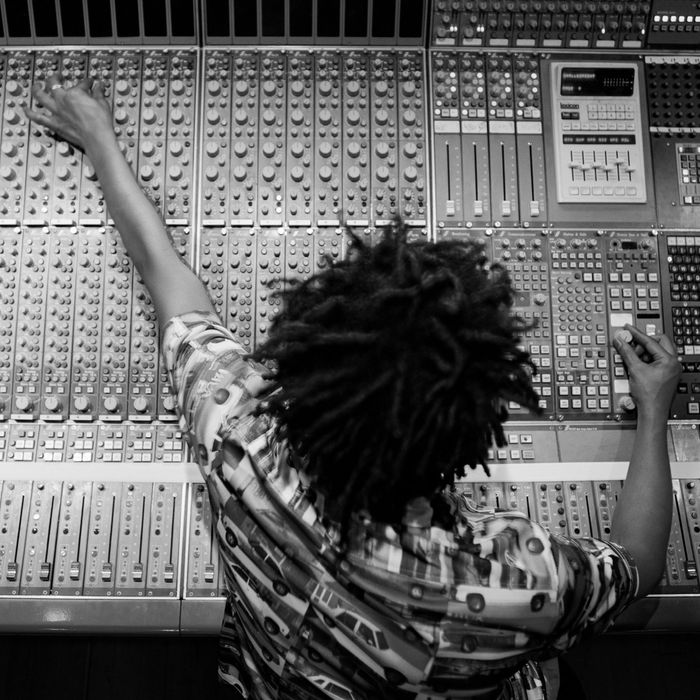 Photo: Paul Arthur/Getty Images
On August 4, 2017, Chris Brown's single "Pills & Automobiles" was certified platinum by the RIAA. This in itself is not remarkable, since the R&B singer has amassed more than 40 platinum plaques over the course of his career. But the single's success was noteworthy for a different reason. For decades, a star at Brown's level would solicit ideas for a new single from a small group of established producers with a long history of hits and deep connections in the music industry. But for "Pills & Automobiles," Brown crafted the track using an instrumental from two relatively unheralded beat-makers — Jordan Hutchins and Felix Rodriguez, known as the Martianz — who came up by selling beats online to aspiring rappers all over the world.
Producers like the Martianz used to be internet curios, far removed from commercial juggernauts like Brown. Occasionally the two worlds merged together, as when Kanye West included a lengthy snippet of Desiigner's "Panda" — made from a beat purchased online for $200 — on The Life of Pablo in 2016. But now the Martianz and other producers relying on a similar business model are frequently creating some of the most popular songs in the country. In September, Tay-K's "The Race" peaked just outside of the Top 40; producer S. Diesel sells his beats online. Similar recent hits include Lil Pump's "Gucci Gang" (No. 3 on the Hot 100, co-produced by BigHead on the Beat), YBN Nahmir's "Rubbin Off the Paint" (No. 46, produced by Izak) and Lil Skies's "Nowadays" (No. 55, produced by CashMoneyAP). Those are all young acts, but other established artists besides Brown called on internet producers as well — see Future and Rihanna's "Selfish" (No. 37, co-produced by Mantra) and 2 Chainz's "Blue Cheese" (from Pretty Girls Like Trap Music, which sold over 500,000 album-equivalent units, co-produced by K Swisha).
This will only become more common: Producers who sell their beats online dream of a not-too-distant future where all the biggest acts shop for beats like YBN Nahmir. "It's a pivotal time we're in right now," says Abe Batshon, who founded the beat-sales site BeatStars in 2008. BeatStars now boasts more than 500,000 users and expects to pay out more than $20 million to producers this year. "I won't be surprised if half of the hip-hop albums out there have production from our marketplace on them," Batshon adds. "You're looking at the next evolution of A&R."
Beat sales have been common online for years — Batshon claims to be one of the first to engage in the practice, leasing beats online via AOL chat rooms in the 1990s when he was still a teenager. A decade ago, when he started BeatStars, Batshon says the beat-sales marketplace was "like the Wild West." "It was hilarious," he remembers. "The internet wasn't mature yet, so it was hard to send high-quality files. You would just send $40 and the producer would email you an MP3. Sometimes the email would take like, 48 hours to come through. And it was a handshake deal — no digital signatures, no paperwork, no structure."
If the legal protections were lacking, the chance to buy affordable beats was enticing. In the 1990s, when Batshon was peddling instrumentals via AOL, super-producers ruled the hip-hop and R&B charts and commanded high fees for their beats — Jazze Pha recalls getting paid $250,000 to make Ludacris's "Area Codes" — that were out of reach for any artist without a lucrative major-label record deal. "Every producer has a run where they're the go-to guy, getting a lot of placements and a lot of work," explains Matt McNeal, the A&R for J. Cole's Dreamville Records, who also manages rappers and producers. "Back in the day when Timbaland or Rodney Jerkins were on their run, you had to go to those people for a hit."
Today, in contrast, an unsigned artist can browse through thousands of beats on sites like YouTube, BeatStars or SoundClick and pay to get an instant download of whatever catches her ears. And like nearly every other marketplace at the intersection of music and technology, the beat-sales world has become increasingly standardized in the last decade, so what was once "the Wild West" is now easily navigable. Usually several beat-purchase options are available. The cheapest is a regular lease, which buys an instrumental of low sound quality; importantly, the buyer doesn't get exclusive rights to this beat — other rappers can release their own version of the same song. If a rapper want to lease an instrumental from double-platinum-certified producer BigHead on the Beat, he can do so for $39.99. For $99.99, this MC can exclusively lease one of BigHead's instrumentals, so he doesn't have to worry about competitors using the same track, and he gets the file format known as WAV, which is better quality than highly compressed MP3s. There are also a slew of beats available for free for MCs whose budgets are more limited.
When you combine the availability of instrumentals today with shrinking label budgets caused by a decade of music business decline,  which only recently reversed, and the utter dominance of hip-hop in the streaming era, you clear the way for the current moment, where the next generation of producer talent is emerging from sites like BeatStars at an unprecedented rate. "As a producer now, the world is yours," says Justice Baiden, who handles A&R for LVRN (D.R.A.M., Raury, 6lack). "The barriers to entry are low compared to back in the day." "You're evening the playing field — there are hundreds of hit records out there with no-name producers attached," adds McNeal. "And theoretically you don't have to know Kendrick Lamar to get a Kendrick record placed."
Producers benefit from cutting out the middleman, which is often a major-label institution that moves at an infuriatingly slow rate. "With the majors, everything is such a process," explains Johnny Juliano, an early online beat seller who has produced records like the Game's "100," featuring Drake, and influenced younger producers like BigHead. "You do something, get it on someone's album, and you don't even have paperwork done when — and if — it's released." DJ Pain 1, who has a decade of production experience and recently joined BeatStars, agrees with Juliano's assessment. "[By selling beats online], you're dealing way more directly with artists," he says. "As an artist, I want that — I don't want what I do dictated by someone who doesn't make music. There's a lot of ugliness in the music business, and online sales avoid that."
Even as the music industry has adjusted to a new landscape with different rules, much of that "ugliness" remains. "There's a lot of shady stuff going on [with major labels] where people feel like they're gatekeepers to an opportunity," says Pi'erre Bourne, who used to work as an engineer at Epic Records before he went on to produce Playboi Carti's top-ten crossover hit "Magnolia." "That's one thing that would get on my nerves: the old-school way. That's why I had to leave Epic — I felt like I was exposed to what used to be. To get your first opportunity, all you have to do is upload a song on YouTube, and you can become a bigger star than the ones on the label."
Internet beat sales also allow international producers, who have rarely had access to hip-hop's power centers, a new path into American rap. The Cratez are a German production duo who transformed an online beat-sales career into success in their home country: They produced Bausa's "Was Du Liebe Nennst," which sold over a million copies in Germany (impressive anywhere, more so in a country of roughly 80 million people). But they've also worked on several records recently for rising American rapper Joyner Lucas, an Atlantic Records signee whose last mixtape was executive-produced by one of Drake's go-to beat-smiths, Boi-1da. Lucas bought the Cratez's instrumentals online. "Back in the day, you had Timbaland and Swizz Beatz and they were selling beats for a lot of money, but it was hard for people living somewhere else that might have been just as talented, if not more talented," the Cratez's Tim Wilke says. YBN Nahmir's "Rubbin Off the Paint" producer, Izak, is from nearby Sweden. "There are producers here that really want to work with American artists, but they don't know how to link up," Izak says. "I tell 'em, get on YouTube. Next thing you know, your beat's going to be everywhere."
The flip side of easy access and bountiful supply is a drop in average beat price, which means it's harder for young beat-makers to get to the point where they make Timbaland-level money. "As much as it's evening the playing field, it kind of works the reverse when you get out there and you're like, 'I should be making what a big producer is making,'" notes McNeal. "You've kind of created this marketplace where it makes it hard for you to get that level where you're charging that amount of money, because you're initially only charging $500 for the beat." And unlike artists, the majority of producers rarely achieve the name recognition needed to pull in money from touring. It's worth noting, however, that the average beat price has probably declined anyway — labels are no longer benefiting from the massive profit margins on CDs, as they were when Timbaland became a go-to producer in the late 1990s.
In addition, Bourne worries that the ease of distributing beats online makes some producers too lazy to engage in the good old-fashioned hustle. "The internet is cool, but sometimes you might have to be in the right place at the right time outside the studio where somebody works at," he says. And he stresses that studying industry practices is still important, even if you're hoping to avoid what Bourne calls "the old-school way." "It's possible for everybody [to get placements], but you have to have your business together," he emphasizes. "If you don't, people can take from you. We need more education on that."
But now, even beat-makers with extensive industry experience are increasingly drawn to the online marketplace, raising the average level of business acumen. "You have more name-producers willing to work with these up-and-coming producers because they understand, 'these kids are making just as good stuff as I'm making, I may just have the connection to get the record to so-and-so,'" McNeal says. Mantra's "Selfish" beat first made its way to the producer Detail (Beyoncé, Nicki Minaj) before ultimately appearing on Future's album. Mantra has subsequently done production for major label artists like MØ and Jidenna.
Krucial Keyz, a Grammy winner thanks to his work with Alicia Keys, is another record-industry veteran who started selling beats online recently. He believes the convenience will make online beat-shopping increasingly attractive to marquee acts and producers going forward. "It just makes it easier to connect," he says. "Instead of always relying on your manager, your publisher, your label, your A&R, even established artists will feel comfortable being able to reach out and say, 'Hey, I like your production.' I see a future in that."