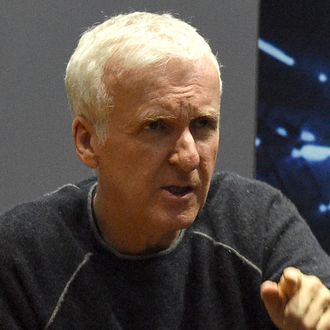 James Cameron.
Photo: Joshua Blanchard/Getty Images for AMC
While promoting his new documentary series AMC Visionaries: James Cameron's Story of Science Fiction on Saturday morning, James Cameron expressed that he hopes people will finally get tired of Avengers movies so they can start getting tired of Avatar sequels. "I'm hoping we're going to start getting Avenger fatigue," the Academy Award-winning director said. "Not that I don't love the movies. It's just, come on, guys, there are other stories to tell besides, you know, hypogonadal males without families doing death-defying things for two hours and wrecking cities in the process." Yikes, I kind of think he might actually not love the movies.
But Cameron may just be tired of the constant flow of Hollywood films that rely heavily on CGI and ever-expanding cinematic universes, which is understandable. So, he decided to make four more Avatar movies and produce another Terminator reboot. Of the Avatar films, the director said, "I found myself as a father of five, starting to think about what would an Avatar story be like if it was a family drama, if it was The Godfather." Well, the Na'vi would probably need to wear more hats and learn to make cannolis.