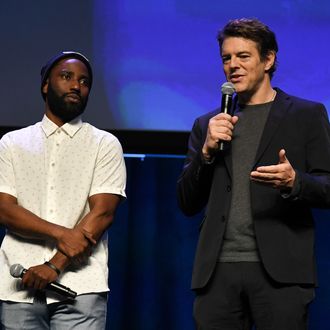 John David Washington and Jason Blum.
Photo: Rob Latour/REX/Shutterstock
Toward the beginning of a first-look featurette of Spike Lee's comedic detective story BlacKkKlansman shown at CinemaCon Wednesday, the film's co-star John David Washington phones up David Duke (played by Topher Grace), the Grand Wizard of the Ku Klux Klan. "I hate niggers, Jews, Mexicans, and spics. Chinks too," the African-American actor's undercover cop character says in his best "white voice." "My mouth to God's ears, I hate those nigger rats — and anyone who doesn't have true white American blood running in their veins."
And immediately viewers were plunged into the film's surrealist — but shockingly true — milieu. BlacKkKlansman is based on the ripped-from-the-headlines story of Ron Stallworth, an African-American member of the Colorado Springs Police Department who, during the 1970s, fooled the KKK into joining their ranks and was eventually asked to head up a chapter of the white-power group at a time when it had been making racially incendiary moves to consolidate power in the small mountain community. Adam Driver portrays the "other" Ron Stallworth, the white cop who nominally assumed his colleague's identity in order to physically rendezvous with the Colorado Klansmen (the real Ron only spoke to them by phone). "With the right white man we can do anything," Washington says in the film. Perhaps not surprisingly, the project was co-produced by Jordan Peele, Oscar-winning writer-director of Get Out.
On hand at CinemaCon were BlacKkKlansman's hit-making producer Jason Blum and Washington, a former pro-football player and series regular on HBO's Ballers who also happens to be the son of Denzel Washington. "The movie is about real things," said Blum. "But it's so absurd. There's a Spike Lee tone of, 'Can you believe what idiots these people were? There are definitely serious underpinnings to this movie. But we're definitely shining a light on how stupid, what idiots and what bozos Ku Klux Klansmen are. They are awful but they are stupid!"