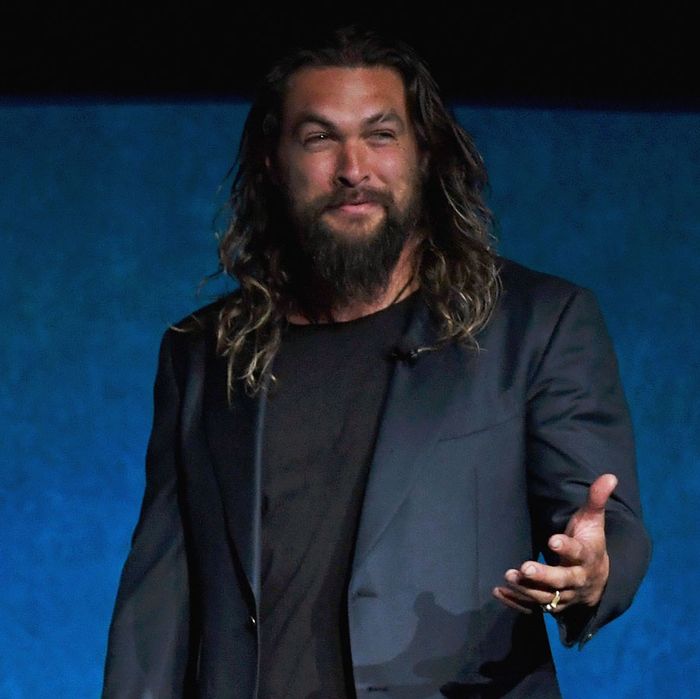 From left, Amber Heard, Will Arnett, and Jason Momoa.
Photo: Ethan Miller/Getty Images for CinemaCon
Near the kickoff for Warner Bros.' CinemaCon panel about the future of the DC Universe on Tuesday, the cast and director of Aquaman — Jason Momoa, Amber Heard, Patrick Wilson, Yahya Abdul-Mateen II, and Australian filmmaker James Wan — hit the stage at Las Vegas's Caesars Palace ballroom to explain that their new superhero movie (due out on December 18) won't be caped crusader business as usual.
"People think they know Aquaman, but his story has never been done before," Momoa said in a film clip — also encompassing the second installment of Wonder Woman and Shazam — that kicked off the panel. "It's a little bit like Indiana Jones, like Star Wars, like Lord of the Rings."
Wan, the horror maestro behind the Saw, Insidious, and The Conjuring franchises and who also directed Furious 7, elaborated. "We got the opportunity to make a superhero movie, to do one that hasn't quite been done before, to do something no one's quite seen before or attempted at this level, to dig into this world and create this world with this cast," he said.
Heard, who plays Mera the Queen of Atlantis in the film, shared that her character is poised to upset gender norms. "What I love about this character and this movie, they respect the dignity of the character's strength. She's not some damsel who needs to be rescued."
Turning to Momoa, she added: "She actually rescues you more."
"Spoiler alert!" he exclaimed.
From there, Wan, who is still in postproduction for the megabudget action movie, debuted rough footage he explained was still reliant on crude animation and pre-visualization imagery, but hoped would indicate the tone and aesthetic of the future film. Viewers were plunged into a Skittles-hued underwater metropolis teeming with futuristic buildings and turbo submarines. We learn that Aquaman's real name is apparently Arthur. He's been living on dry land, but is somehow compelled to take the plunge to return to his birthplace and face Wilson, who portrays his brother. "My brother has come from the surface to challenge me for the throne," the actor intones as footage of Wilson and Momoa facing off in an epic trident fight flashes by.
We see a fiery-haired Heard leaping from a building, as she tells Aquaman in voice-over, "Billions of people will die unless you help us: your people and mine. You have to forget the lessons of the surface world ad uncover your Atlantean instincts."
And convention attendees got as close to an Aquaman mission statement as has been released to date: "I learned from a young age not to show weakness, to solve problems with my fists," growls Momoa in the clip. "I'm a blunt instrument and I'm damn good at it."