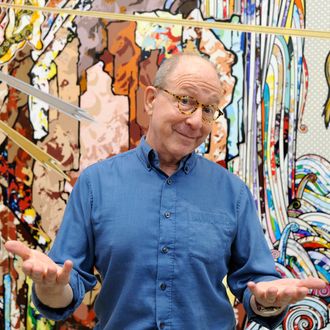 Jerry Saltz, Pulitzer-winner.
Photo: John Sciulli/Getty Images for Vulture Festival
We at New York Magazine (and thus Vulture) have known for a long time that Jerry Saltz, our art critic since 2007, is a unique and brilliant writer. He's the art world's great explainer, capable of writing in such a way that both the insider-iest insider and the rank amateur come away feeling like they've learned something. Jerry's energetic process of "performing criticism in public," as he likes to say, has led him to invent whole new forms of criticism (on social media, in three-sentence reviews, on TV, in close readings of single artworks and not-exactly-artworks to which he gives new aesthetic life). He is especially alive at the intersection of art and politics, which means that he was indispensable in 2017 charting the cultural earthquake of Donald Trump's election — anticipated by so few artists and yet so quickly seen as initiating a whole new era, and new role, for art. And this afternoon, the Pulitzer Prize committee acknowledged that role with its 2018 prize for criticism. Although he's been a finalist for the award twice in the past, this is Jerry's first win (and New York's as well). We are delighted, and congratulate him.