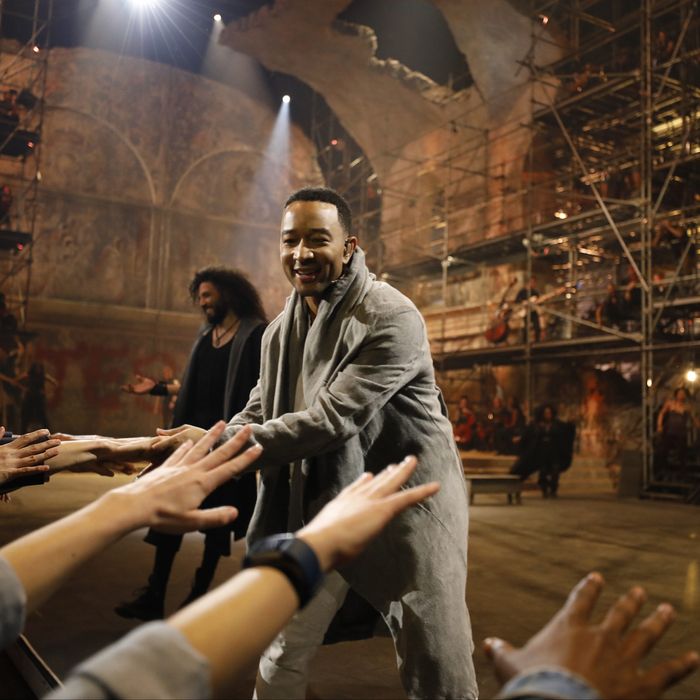 John Legend is Jesus!
Photo: NBC/Patrick Randak/NBC
To celebrate the resurrection of Christ, NBC continued its annual TV-musical tradition with Jesus Christ Superstar: Live in Concert, a spirited staging that involved lots of guitar shreds, geometric coats, and glitter. Sinning is shiny! Read on for all the highs, lows, and deep Vs.
HIGH: Brandon Victor Dixon. Judas was always the real star of the show, and Dixon's glowering, raging, Aaron Burr style made it all the clearer, right up through the messy, sweaty, furious suicide. Bonus points for all the times he had to seethe with anger while resting amidst the scaffolding. Super extra bonus points for absolutely killing "Superstar" in his sparkly pants and tank, the best performance (and look) of the night.
LOW: John Legend's withering stare. You gotta give it to him, John Legend tries very hard to look serious as Jesus Christ … it's not his fault if he's physically incapable of it!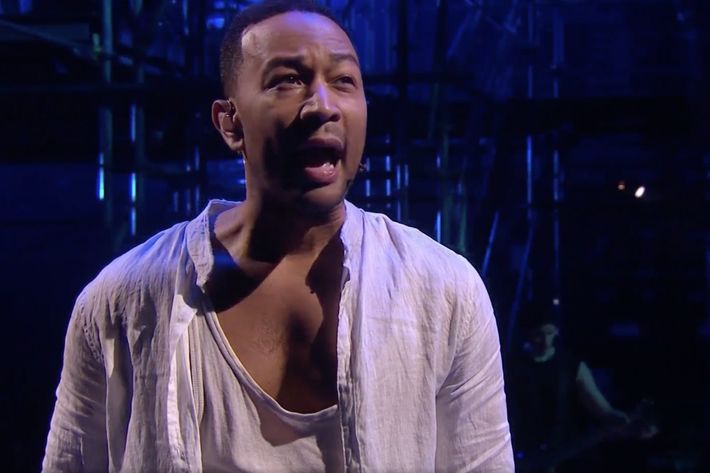 LOW: John Legend's extremely deep tank top. Only literally a low. Otherwise it was a high, and all the better to get sweaty with.
HIGH: John Legend's performance of "Gethsemane (I Only Want to Say)." Okay, so it was hard to adjust to thinking of Legend as Jesus, but you have to give it up for his knockout performance of this song.
HIGH: The priests' geometric black coats. Just look at this gorgeous thing, designed by Paul Tazewell (Hamilton) — an homage to Issey Miyake's Bao Bao bag!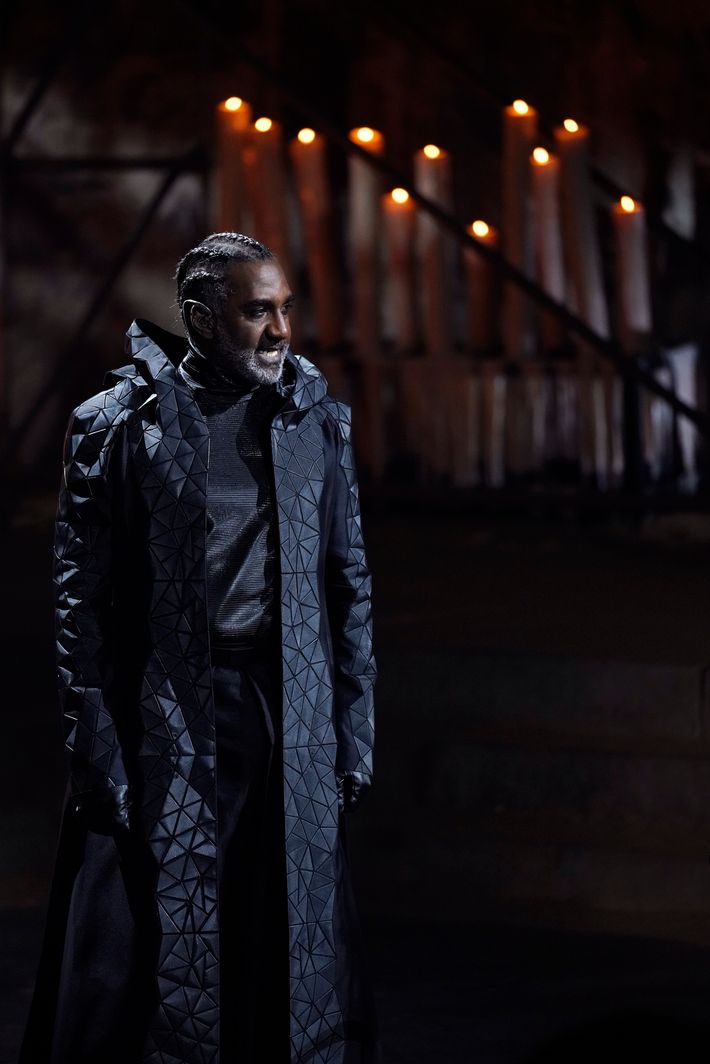 HIGH: Norm Lewis as Caiaphas. With a voice deep enough to make it seem like the set was shaking — and a glare harsh enough to make us take his dyed cornrows seriously (see above).
… together with Jin Ha as Annas. Where Lewis goes low, Ha goes high. Listen to them gorgeously layer "he is dangerous" on top of one other around the one-minute mark. Mmm.
LOW: The audio mix. The performers kept getting drowned out by the music, the audience, and pretty much everything. It's always fun to hear a vocal-dependent musical that sounds like it was recorded from inside Jesus's wine bottle.
HIGH: The stripped-down staging. As the "In Concert" nomenclature implied, JCS was not as elaborately staged and filmed as other live-TV musicals. That, and the visible audience, gave this production more of a live-theater vibe than previous NBC musicals, even if it was a little too reminiscent of Rent.
LOW: The commercials. Jesus died for our sins … and also so we could watch advertisements for the Apple X while watching a musical about him.
… yes, including John Legend's Google commercial. Jesus loves our corporate overlords?
HIGH: The brevity. Granted, NBC elongated this musical with all the commercial breaks. But even so: clocking in at two hours and 20 minutes made the production crisper and more powerful than other TV musicals that drag on for three or more hours.