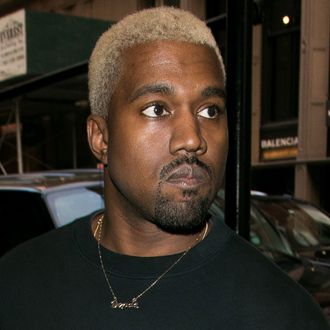 Kanye West.
Photo: Marc Piasecki/GC Images
After a brief tease this weekend, Kanye West is back on Twitter, tweeting up a storm, after scrubbing his account last May. While there is a 99 percent likelihood he will delete everything in 15 minutes and disappear from whence he came, let's enjoy Kanye's tweets while we have them, especially if, as fans are surely hoping, his return to form signals new music is on its way. If nothing else, it's nice to see Sentimental Kanye, who looks back on a memory with former brother-in-law Lamar Odom.
Then Kanye immediately really gets into it, with a few tweets that echo his recent existential rumination in The Hollywood Reporter while interviewing his interior designer, Axel Vervoordt.
In the end, maybe Kanye returned to Twitter because he wants his fans to feel more included in his creative process, like the design of his shoes or the decision-making process behind his body art. So, do you like Kanye's potential neck tattoo designs? You can tell him directly now, but try to ease into it. He can be gone again so quickly, just like that.