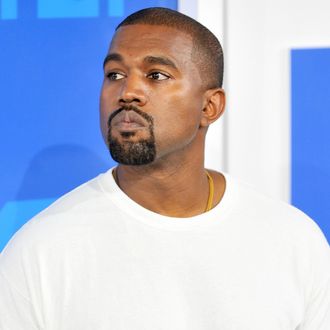 Oh, Kanye.
Photo: Allen Berezovsky/WireImage
Freethinker Kanye West has turned his recent thoughts on politics into action. Over the weekend, TMZ reports that West took a meeting with conservative pundit Candace Owens, the same woman who West fawned over in a tweet the previous weekend. After learning that West was apparently a fan, Owens begged him for a meeting, and it appears she got her wish. Though there are no details about the extent of the meeting — did they talk Kanye 2024? Black Republicans? Poopidty scoop scoopidy poop? — but we do know they weren't alone.
The two were joined by Charlie Kirk, the 24-year-old founder of Turning Point USA, a right-wing nonprofit student organization that protests university speech policies by wearing adult diapers. When Owens isn't busy building her anti–Black Lives Matters thought machine into a social-media brand, she serves as Turning Point USA's communications director. Donald Trump Jr. considers both Owens and Kirk "pals" and is just as intrigued by their apparent hangs with Kanye as you are.
Update, 3 p.m.: Kanye has shared a brief snapshot of what he and Candace Owens talked about, and it looks a little something like this:
If you can decipher that, we both applaud and fear you. Ebro Darden, who appears to now have Kanye on speed dial, also revealed that Kanye FaceTimed him during the meeting with Owens, who asked to be invited onto Hot 97 to promote her ideology. Darden declined, and Kanye hung up when Kim called.