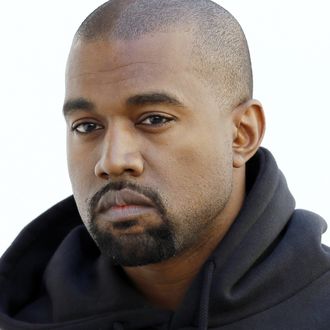 West.
Photo: PATRICK KOVARIK/AFP/Getty Images
When Kanye West isn't grabbing headlines with his tweets — both of the controversial and philosophy-book variety — he's been working on multiple albums. In the past week the rapper announced he has two albums due out in June and he's producing Nas's next album, also out in June. From reports it sounds like Yeezy is doing all this with very little help.
According to TMZ, West reportedly told members of his management team that he would need them to either work for him full-time or quit. With this ultimatum in play, supposedly several figures in his business dropped out, including lawyers and longtime manager Scooter Braun. It should come as no surprise that Braun would be unable to give West his full attention — in addition to wrangling Justin Bieber, his other biggest client, he's also interested in politics.
The two reportedly remain on good terms, and may continue to do business together. In the past Braun helped West to launch his Yeezy brand with Adidas.
Update, April 25: Kanye responded to the news with a pair of tweets Wednesday morning.