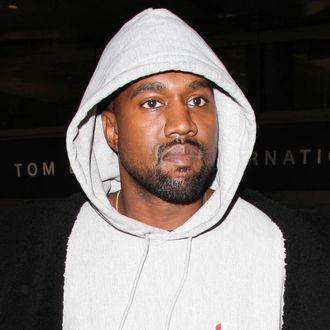 West.
Photo: starzfly/Bauer-Griffin/GC Images
Riding the sonic wave after releasing two new tracks on Friday evening, Kanye West retreated to his new favorite sounding board, Twitter, to reveal some poignant intel about one of his upcoming two albums. (Albums which he says will be released this summer.) "This is my album cover. This is plastic surgeon Jan Adams. The person who performed my mom's final surgery," West posted this afternoon in a screenshot conversation with presumably Wes Lang, one of his frequent art collaborators. "I want to forgive and stop hating." Asking "Wes" what a good album title would be to accompany the image of Adams, the first suggestion, Love Everyone, was met with immediate admiration.
In late 2007, Adams performed liposuction and breast reduction surgery on Donda West, West's mother, in Los Angeles. She died the following day of heart disease, owing to "multiple post-operative factors" that stemmed from the plastic surgery, her autopsy found.