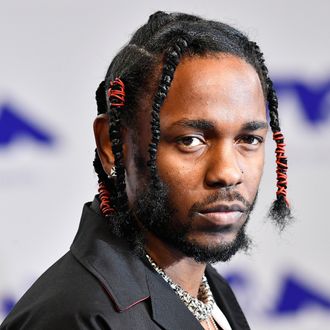 Kendrick Lamar.
Photo: Frazer Harrison/Getty Images
Well, damn, DAMN. has a Pulitzer. Today, Kendrick Lamar's album earned the Pulitzer in music, alongside a collection of other winners that included the New York Times' Jodi Kantor and Megan Twohey and The New Yorker's Ronan Farrow for their reporting on Harvey Weinstein and sexual abuse in Hollywood, Martyna Majok for her play Cost of Living, and New York's own Jerry Saltz for his art criticism. Read the full list of winners below.
Journalism
Public Service: The New York Times, for reporting led by Jodi Kantor and Megan Twohey, and The New Yorker, for reporting by Ronan Farrow.
Breaking News Reporting: The Press Democrat.
Investigative Reporting: The Washington Post.
Explanatory Reporting: The Arizona Republic and USA Today Network.
Local Reporting: The Cincinnati Enquirer.
National Reporting: The New York Times and the Washington Post.
International Reporting: Clare Baldwin, Andrew R.C. Marshall and Manuel Mogato of Reuters.
Feature Writing: Rachel Kaadzi Ghansah, freelance reporter, GQ.
Commentary: John Archibald, Alabama Media Group.
Criticism: Jerry Saltz, New York Magazine.
Editorial Writing: Andie Dominick of The Des Moines Register.
Editorial Cartooning: Jake Halpern, freelance writer, and Michael Sloan, freelance cartoonist, The New York Times.
Breaking News Photography: Ryan Kelly of The Daily Progress.
Feature Photography: Reuters.
Letters, Drama and Music
Fiction: Less, by Andrew Sean Greer
Drama: Cost of Living, by Martyna Majok
History: The Gulf: The Making of an American Sea, by Jack E. Davis
Biography or Autobiography: Prairie Fires: The American Dreams of Laura Ingalls Wilder, by Caroline Fraser
Poetry: Half-light, by Frank Bidart
General Nonfiction: Locking Up Our Own: Crime and Punishment in Black America, by James Forman Jr.
Music: DAMN., by Kendrick Lamar