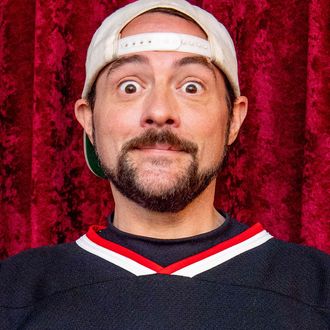 Photo: Roy Rochlin/Getty Images
Kevin Smith nearly died of a heart attack in late February, just after finishing the first night of taping a new standup special, Kevin Smith: Silent But Deadly. Smith cancelled the second night of his show, went to the hospital, survived the heart attack, and on Monday it was announced that the special found a home and a premiere date: Friday, May 11 at 9 PM on Showtime.
Smith has been known for writing and directing (Clerks, Mallrats, Jay and Silent Bob Strike Back) and he's well-versed in appearing in projects as himself such as in marathon-like Q & As (An Evening with Kevin Smith), but in this special he will be doing standup on marriage, fatherhood, and work, per Showtime. Smith announced that on March 22, roughly three weeks after the heart attack, that he was already down 20 lbs in the previous 13 days.
Though it may not be visible in the special when it airs since it before the heart attack, here is how Smith described his feeling right after the show: "After the first show, I felt kinda nauseous. I threw up a little but it didn't seem to help. Then I started sweating buckets and my chest felt heavy. Turns out I had a massive heart attack," Smith wrote.
The moments right before that heart attack will be airing next month in Silent But Deadly.