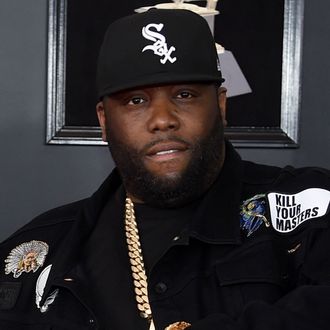 Photo: Jamie McCarthy/Getty Images
Last month, Run the Jewels' Killer Mike felt the heat after an interview he filmed with NRATV about gun ownership dropped on the same day as the nationwide March for Our Lives gun-control demonstration. Fans and detractors alike came for the Atlanta rapper, including, apparently, MSNBC correspondent Joy-Ann Reid. Presumably still stewing over his prologued public chastisement, one that ended with him apologizing for the timing, though not the content, of his interview, Killer Mike took to Reid's Instagram this weekend to castigate the AM Joy host for seemingly promoting the clothing company H&M.
"So me doing an interview about black gun ownership with the NRA is 'bad,' but you promoting a company that tagged a black child a monkey is 'good,' cool,' and 'acceptable,'" Mike reportedly said in part on one of Reid's Instagram photos. H&M famously lost its relationship with the Weeknd and earned the ire of many consumers back in January after posting an advertisement featuring an African-American boy wearing a shirt that declared him the "Coolest Monkey in the Jungle."
Weeeellllll, while a journalist's relationship with H&M might have been grounds for a heated debate about capitalism, race and corporate responsibility, Reid's reference to "H&M" was actually a shout-out to her own personal hair-and-makeup team, making Killer Mike's attempt to call her out so embarrassing, your face sort of wants to slide completely off your head like a pizza sliding off a counter onto the floor.
"'H&M' stands for 'hair and makeup,' Mike," Reid replied in part to the now-deleted comment. She concluded, "And here I was thinking you were an intellectual, and not just the guy who hangs out in the sunken place talking guns with the NRA's 'official black guy' who literally changed his last name to 'black.'"
In the end, as an outspoken public figure unafraid to take an unpopular stance, Killer Mike can recognize when he's made a misstep. He apologized and, in a positive twist, made a series of tweets Sunday that suggests he'll sit down with Reid sometime in the future to talk about African-American gun ownership, a great outcome for maybe the worst L you've seen taken in a long, long time.