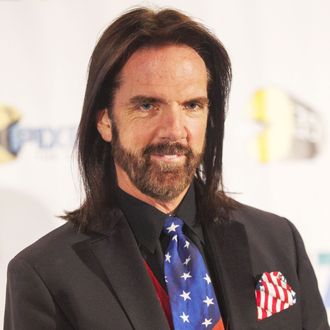 Billy Mitchell.
Photo: Barry Brecheisen/Invision/AP/REX/Shutterstock
Well, we've officially found our video-game version of Icarus. One of the highest-scoring gamers of all time, Billy Mitchell — who was propelled into geeky stardom thanks to the 2007 documentary King of Kong: A Fistful of Quarters — has been stripped of all of his high scores due to substantial cheating evidence against him. Per Variety, Twin Galexies, which is the world's largest tracker of video-game records, made the ruling after months of investigation. "With this ruling, Twin Galaxies can no longer recognize Billy Mitchell as the first million point Donkey Kong record holder," the group said in a statement. "According to our findings, Steve Wiebe would be the official 1st million point record holder." Because of the scandal, Mitchell has been banned from competitive gaming for the rest of his life, and Guinness Book of World Records has also been alerted.
Mitchell, as stated, was believed to have the first person to hit the 1 million mark in Donkey Kong history while playing it on an arcade machine — but his incredible score of 1,047,200 has now been determined to have been accomplished by emulation software, as opposed to actual talent. A thousand barrel-in-faces for him.