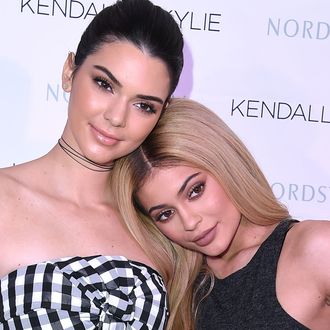 Photo: Steve Granitz/WireImage
Last year, Kendall and Kylie Jenner licensed their images to be used on a series of T-shirts that also featured pictures of legendary rappers Tupac Shakur and Notorious B.I.G. The shirts were part of the sisters' Kendall + Kylie label, and they immediately took heat on social media for capitalizing on the deceased artists' likenesses. It also got them in some legal trouble. Lawyers for Biggie's mother sent the two a cease-and-desist letter to get them to discontinue the shirts with her son's image on it, and photographer Michael Miller, who took the photo of Tupac, sued the two women for copyright infringement.
TMZ is now reporting that the Jenner camp and Miller have agreed to discontinue the legal battle, with both sides paying for their own legal fees. The two parties have reportedly "reached a settlement," but it's unclear how much if any money was paid out for damages. The Jenners pulled the shirts from their inventory shortly after getting called out, but since everything on the internet lives forever, you can still see what they looked like.