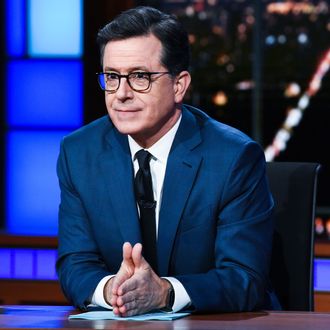 Colbert.
Photo: Scott Kowalchyk/CBS
Despite big promotional boosts from NBC's broadcasts of the Super Bowl and the Winter Olympics, the overall audience for The Tonight Show Starring Jimmy Fallon fell far behind CBS's still-surging Late Show With Stephen Colbert during the opening months of 2018. Per Nielsen ratings for the year's first quarter, Colbert averaged 4.02 million DVR-adjusted viewers — a massive 20 percent leap compared to the same time frame in 2017 — and well ahead of both Fallon (2.76 million) and ABC's Jimmy Kimmel Live (2.35 million).
While Colbert has been beating Fallon for some time, his margin of victory now stands at a daunting 1.26 million viewers. A year ago, the CBS host was ahead by less than 300,000 viewers. Plus, while the Late Show grew 20 percent compared to the first quarter of 2017 and Kimmel edged up 3 percent, Tonight dropped another 10 percent, even with all the extra promotional love NBC gave Fallon during its big sporting events. In fairness, Tonight remains in first place among the advertiser-coveted adults-under-50 demographic, a remarkable achievement given Late Show's 46 percent overall advantage in total viewers. But even Fallon's demo story is looking shakier.
During the first quarter, Tonight notched a 0.7 in the demo, declining 13 percent from a year ago and finishing just one-tenth of a point ahead of Colbert (0.6), who stayed flat year-to-year. (Kimmel also remained stable, with a 0.5 rating). If there's any good news for Fallon, it's that Colbert's massive overall audience spike isn't translating to similar demo gains. That will help Tonight stay competitive with Late Show in the battle for ad dollars, since advertisers tend to prefer programs that more efficiently deliver a concentrated audience of younger eyeballs. But even this is stretching the power of positive (Nielsen) thinking: A couple years ago, Fallon consistently crushed Colbert and his predecessor David Letterman in the demo. It's hard to brag about being barely a tenth of a rating point ahead when NBC so recently dominated the late-night battlefield.
As for Colbert, the first-quarter ratings news continues a trend that began right around the time of Donald Trump's inauguration. The Late Show's relentless focus on the perpetual crisis at the White House, combined with Colbert settling into a big network gig after a decade-plus on half-hour cable shows, has paid off in a major way: The last time CBS passed 4 million viewers in late-night during a first-quarter ratings period was all the way back in 2007. Late Show is also picking up steam on the digital front, long Fallon's turf: Overall viewership of digital clips jumped nearly 27 percent in the first quarter, and the show passed 4 million YouTube subscribers (up around a million from last fall, though still far behind all other network late night shows, save Late Night With Seth Meyers). Even as Trump has no doubt boosted Colbert's numbers, there are signs Late Show can do well even when POTUS isn't melting down. Colbert got his biggest audience of the year when Oprah Winfrey drew nearly 5 million viewers last month. And on April 2, a rerun of a February episode featuring an interview with Jennifer Lawrence managed to draw a bigger audience than first-run installments of Tonight and Kimmel. Even Trump would find it difficult to claim credit for that.