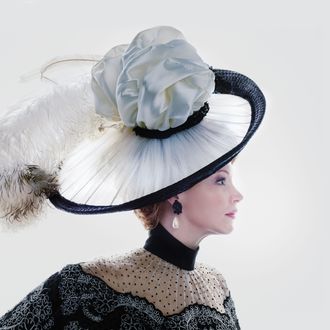 Lauren Ambrose in her
My Fair Lady
costume.
Photo: Marco Grob/ALL RIGHTS RESERVED © MARCO GROB
As Eliza Doolittle learns, if one goes to the smashing, positively dashing spectacle that is Ascot's opening day, one had better be dressed for it. For My Fair Lady's revival, costume designer Catherine Zuber and milliner Rodney Gordon had to create a hat that fit both the extravagant scene and Lauren Ambrose's modernized reading of the character. "Her interpretation has a wonderful humanity to it," Zuber explains, and to that end, the hat "had to be extreme — but within a parameter that worked for our production."
The Colors
Unlike the film, which dressed the Ascot crowd in black, white, and gray, Zuber presents only Eliza that way, surrounding her with an ensemble dressed in mauve. "When Eliza comes in, she's the focal point," Zuber says.
The Materials
Zuber's first sketch was slashed with a black line, which Gordon interpreted with a brim of black straw, held from the center with spring-steel spokes wrapped painstakingly in thread. The tulle covering them glows under the stage lights. Gordon took care to keep the materials light to avoid weighing on Ambrose. Zuber salvaged the puff of fabric at the center from a costume used in The King and I — also at Lincoln Center, also directed by Bartlett Sher.
The Feathers
They're ostrich, vulture, coq, and egret. (As egrets are protected, those antique plumes, processed before the ban, came from a decades-old stock in Gordon's studio.) They're bound by a knot of antique horsehair ribbon set next to a medallion fashioned out of lightweight gems.
The Tilt
Zuber and Gordon worked out the design in multiple fittings, tweaking it until it sat just so atop Ambrose's wig. As she goes through her costume change, the dressers place her hat at the same angle each time, with the spikier feathers arranged vertically.
My Fair Lady is in previews for an April 19 opening at the Lincoln Center Theater.
*This article appears in the April 2, 2018, issue of New York Magazine. Subscribe Now!