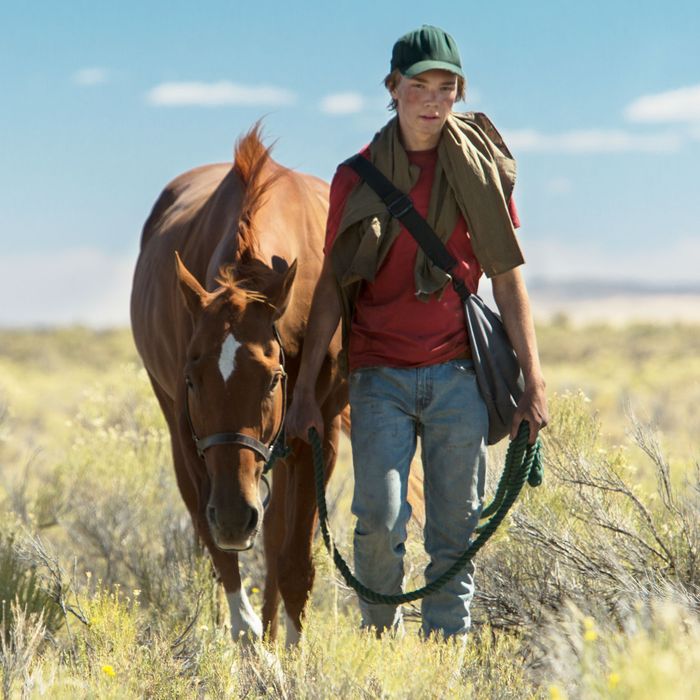 Photo: Scott Patrick Green/A24
Lean on Pete is named for a horse, but our young protagonist never rides him. That feels like an important distinction: running away with a horse, as young Charley (Charlie Plummer) eventually does with Pete, is one of the top-ten all-time adolescent-fiction fantasies, but usually the protagonist is on the horse's back, riding like the wind. Lean on Pete isn't an adolescent fantasy; it's hard to even call it a horse movie, despite the small-time racetrack circuit where a good chunk of it takes place. Humans have abused and burdened horses for millennia and yet we still think of them as a symbol of freedom, a wild thing to transport us to our true destiny. But director Andrew Haigh's film never truly feels that unfurled or unencumbered, because it's not about escape so much as it is about burden — particularly, the burden of caring.
Based on the novel by Willy Vlautin, Lean on Pete follows 15-year-old Charley Thompson, the only son of a single father (Travis Fimmel) whose work — manual, constantly fluctuating — has kept the two moving around the Pacific Northwest. They are poor — not movie-poor, but disastrously poor, one stroke of bad luck away from homelessness. As Charley comes back from a morning run, he runs into his dad's latest girlfriend, whose face we barely see. She's stayed the night, we gather, and now she's busy stocking the kitchen with groceries. She's seen the situation and is doing what she can to take care.
The girlfriend ends up indirectly contributing to Charlie's escape, but that's after he discovers a horse track on the edge of their town, and meets a curmudgeonly trainer, Del (Steve Buscemi), who agrees to give him work. Charley learns how to handle the horses and helps Del shuttle them around to various races, often with Bonnie (Chloë Sevigny), a jockey, in tow. Del's horses aren't great, and Bonnie is a little too big to ride — it's a ragtag group, but Charley takes to it, and is even able to earn some money for himself. He especially connects with Lean on Pete, a particularly hopeless quarter horse. But no sooner is the trio of misfits established that it becomes clear that Pete's days are numbered, drawing a line between Charley and his adult colleagues. Meanwhile, Charley's father's reckless love life has tragic consequences, and the teen soon finds himself without a home. So he takes the horse and runs, in search of his long-lost aunt, the only living relative he knows of.
There's a lopsided quality to Lean on Pete that will particularly destabilize viewers (like myself) who are unfamiliar with Vlautin's book. It has three distinct acts, and the last one feels like a very different movie indeed — its turn of events aren't implausible, it just feels like they keep going well past the logical finish line. Sometimes that kind of unexpectedly protracted film can be instructive, challenging our expectations of what a story is and where it should end. But things get so operatically bad for Charley as the film wears on that character and story cease a dialogue with each other, which for most of the film, has been developing nicely. The dialogue itself, unfortunately, never feels less than creaky, sometimes distractingly so, even in the mouths of Buscemi and Sevigny. Haigh, normally adept at conversational naturalism, co-adapted the script with Vlautin, and its strongest moments are nonverbal.
And once Charley makes his escape, the film quiets down and Haigh maintains a dreadful, sympathetic tension. Charlie Plummer, last seen as the kidnappee in All the Money in the World, has a naïf-ish quality and a perilously open face. Charley is the kind of boy that things happen to. When he starts initiating his own fate, correcting for his own lifelong neglect by boldly taking another creature into his inexperienced care, you can't decide whether to be touched or watch through your fingers. (It should go without saying that more sensitive horse lovers should proceed with caution.) Charley, like his father, doesn't suffer from a lack of love in his heart, but that doesn't lead to a natural knack for protecting those he loves — or himself. He never rides Pete, but by the end, you find yourself wondering if they would both be better off if he did.