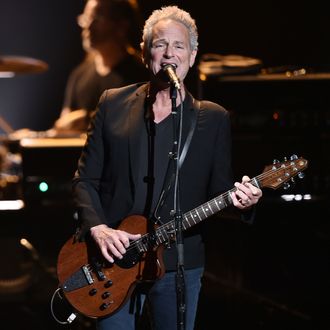 Lindsey Buckingham.
Photo: Steven Ferdman/Getty Images
We wish we could say this is secondhand news, but … alas. Variety confirmed Lindsey Buckingham departed Fleetwood Mac ahead of the band's upcoming international tour, leaving the lineup of Mick Fleetwood, John McVie, Christine McVie, and Stevie Nicks to perform without his virtuoso guitar and vocal skills. An hour after the original news broke, Rolling Stone additionally confirmed that Buckingham was fired "after a disagreement" about the tour, although the nature of the disagreement hasn't been disclosed. Buckingham hasn't commented on the firing, with the band only issuing a brief statement of confirmation: "Lindsey Buckingham will not be performing with the band on this tour. The band wishes Lindsey all the best … Fleetwood Mac has always been a creative evolution. We look forward to honoring that spirit on this upcoming tour." The Heartbreakers' Mike Campbell and Crowded House's Neil Finn — the epitome of talent! — will be subbing in for Buckingham during the tour, but if you need to sadly listen to Rumours a few times at your cubicle for the rest of the day, we totally understand. In fact, we encourage it.
This post has been updated to reflect the additional news of Buckingham's firing.