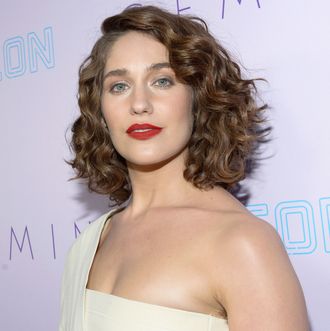 Kirke.
Photo: Tara Ziemba/Getty Images
Lola Kirke is not here for your sexist movie criticism. When her latest film Gemini — a thriller co-starring Zoë Kravitz — was reviewed by The New Yorker, critic Anthony Lane had some commentary about Kirke's character's appearance: "She wears big jeans and a baggy gray top, while sporting the haircut from hell," he wrote, concluding that despite the costuming, Kirke herself remains "sphinxlike enough as it is."
In response, Kirke penned a letter to the editor calling out Lane's focus on her character's costuming. "I am disappointed by Anthony Lane's glib criticism of my character's appearance in the film Gemini (The Current Cinema, April 2nd). To deem unflattering the 'big jeans' and 'baggy gray top' I wear throughout the film is to suggest a preference for heroines in more tight-fitting clothes," she wrote. "And to even mention my 'haircut from hell' is to miss the point of my performance entirely. We need to see female characters be powerful and beautiful in ways that don't rely on outdated representations of women." Huzzah!