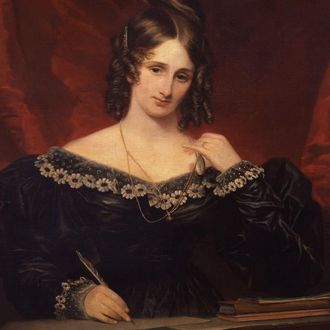 Mary Shelley, 1831.
Photo: Heritage Images/Heritage Images/Getty Images
National Geographic has found the next brilliant historic figure for the third season of its scripted bio series Genius. According to Deadline, the network will be turning the life of author Mary Shelley, writer of Frankenstein; or the Modern Prometheus, into a ten-episode drama.
Though the network did not announce who would be playing the groundbreaking literary figure, the show has attracted noteworthy talent in the past. In the first season Geoffrey Rush played Albert Einstein and in the second season, which premieres on April 24, Antonio Banderas portrays Pablo Picasso. Based on the short biography of Shelley in Nat Geo's press release, the part promises to be a juicy one: In addition to inventing the science fiction/horror genre and being a fierce feminist before feminism was a thing, she also lost her virginity at the age of 16 "at her mother's gravesite," eloped without her father's permission, and lost her husband at sea. She was also friends with a lot of famous 18th- and 19th-century British literati, so there's plenty of good parts to go around — who wouldn't want to play Lord Byron?