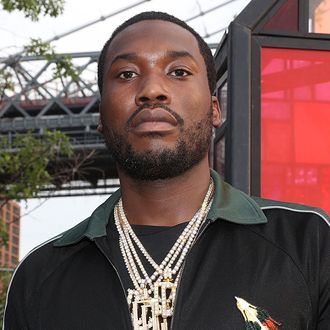 Meek Mill.
Photo: Shareif Ziyadat/WireImage
Meek Mill is once again a free man, and his day keeps getting better. Hours after TMZ first reported that the rapper would be released on bail early from prison, Michael Rubin, the co-owner of the Philadelphia 76ers and a long-time ally to Mill, posted a picture on Instagram of Mill and him in a vehicle with the caption, "On the way to the sixers game let's go!!!! #meekfree." Rubin also told the New York Times that he wants Mill to ring the ceremonial bell, a Philadelphia basketball tradition, at the start of the playoff game against the Miami Heat.
Mill was incarcerated last November on decade-old charges. In 2008 he was convicted on charges related to the possession of guns and drugs and served eight months in jail. He was released with five years probation, but that probation sentence has been extended on multiple occasions. He was sentenced last fall to two to four years for violating his probation, though some believed the judge presiding over the case was too biased. Many fans, celebrities, and even Pennsylvania politicians were critical of the criminal justice system's treatment of Mill and protested his incarceration.