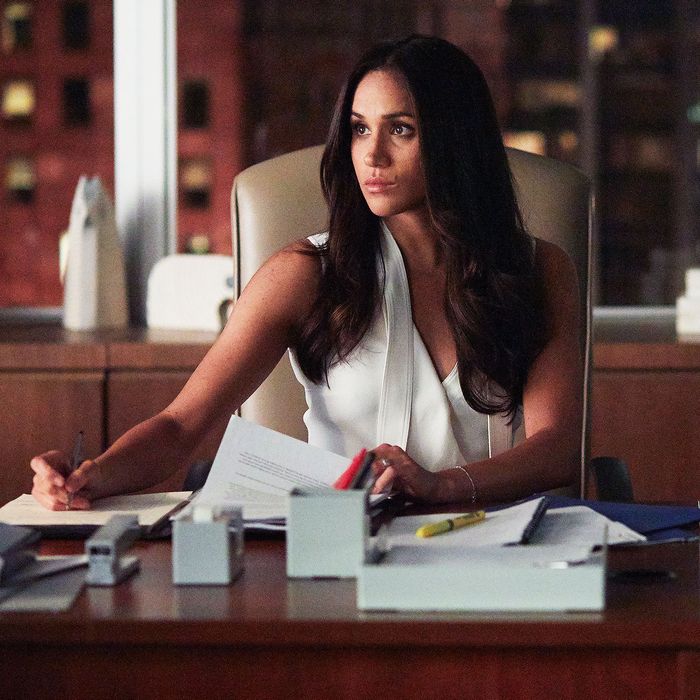 Meghan Markle.
Photo: USA Network/Shane Mahood/USA Network
On Wednesday night, anglophiles across America were treated to Britain's newest duchess in her final acting role ever — the gal, of course, being Meghan Markle, and the show being USA's Suits. Unless you've been living under an anti-monarchical rock, you'll know Markle is leaving her career behind to marry Prince Harry and join the British royal family, a wedding that will actually be occurring in a few weeks' time. Since you're likely asking yourself, How exactly was Markle written out of the show that made her a household name?, your friends at Vulture made a guide to all of those pressing questions and more. Hint: Another wedding occurs, and she's the bride!
Before Markle's character can get a happy ending with her fellow law boo, they have to deal with some pesky legalese: Pioneering a class-action lawsuit against some criminal defendants.
That includes many, many late nights in the office, until a breakthrough discovery about insurance policies speeds things up. "If a bus driver takes out a policy for $10 million and his wife runs him over with a bus," Markle posits, "That's not a coincidence!"
Adding another buckle to their stress belt, the couple decide they're going to take a new job in a new city…
…and move their wedding up by a few months to make it happen!
Her ginger goddess BFF — a.k.a. the COO at the law firm — is undeterred by this new time constraint. She has three questions and three questions only: "Band or DJ? What kind of food? And rustic chic or glam all the way?"
Spoiler alert: They win the suit! Now they can get married!
They went with the glam theme.
Just kiss already, you cuties. Squee!
So, what next? They're going to live and work in the booming metropolis of Seattle, where they'll run a firm that specializes in class-action cases against Fortune 500 companies.
That's a series wrap on Markle, folks! Godspeed in the Pacific Northwest to the happy couple.