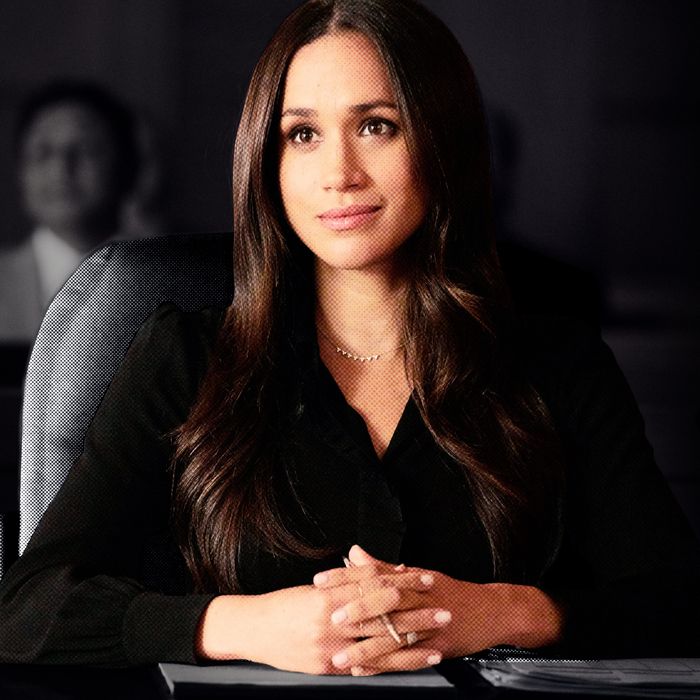 Meghan Markle.
Photo-Illustration: Maya Robinson/Vulture and Photo by USA Network
With the arrival of Suits' mid-season premiere, USA has hit the royal jackpot in what's otherwise a standard legal procedural: Meghan Markle, a.k.a. Prince Harry's soon-to-be bride, will leave the series after its season-seven finale, effectively putting her acting career behind to hobnob with the Windsors at polo matches.
For royals-watchers tuned into Suits for the first time to support the future duchess, here's what you need to know: Markle plays Rachel Zane, an amiable and sharp summer associate who worked her way up the corporate ladder from a paralegal gig. She's also engaged to the firm's junior partner, Mike (Patrick J. Adams), after years of a slow-burn romance. To be honest, Rachel is rather … meh. Suits is good, as far as basic-cable legal dramas go, but the day-to-day thrills of a Manhattan law firm can only get so wild, which means Rachel's stories tend to revolve around boardroom meetings, filing cabinets, and occasional showdowns between distrustful clients.
Got it? Each week, we'll dutifully provide a recap of every notable thing that Meghan Markle does on Suits for the remainder of the season. Let's dive into Marklemania, shall we?
Markle-cap, Week One
She flirts with her work boo.
She smooches her work boo!
She and her work boo argue about a trucking-company case.
Power-walking alert! There's a break in that trucking-company case. Justice will be served … as New York State law dictates.
Another smooch!
Markle-cap, Week Two
A riveting debate: Should they order from the one Chinese-food takeout place, or the other Chinese-food takeout place?
The definition of contract is disputed many times. She thinks it means it requires consideration, and her client got nothing as a result!
This fireside chat about arbitration and malpractice gets … fiery.
Phew, case settled. It's wine o'clock, baby!
Markle-cap, Week Three
A priest's marriage questionnaire bubbles up some giggly tension.
This sneaky lady is trying to suss out her friend's secret girlfriend.
Oh no, his secret girlfriend is an engaged woman. And she's confronting him about it!
Her boo didn't even bother to fill out the questionnaire. How rude!
Even the priest is like, boy, please.
I don't think they're mad about the questionnaire anymore.
They have much more pressing matters on their minds, anyway. Should they move to California or … Iceland?
Markle-cap, Week Four
Uh-oh, the firm may lose its building thanks to an asshole landlord!
They're pulling an all-nighter to make the landlord back the hell off.
Power-walk alert! Straight into the confrontation room!
The key to their win, I kid you not, is buying all the air space around the landlord's fancy properties … and then building 40-foot boxes of tampons to create obstructed views.
Victory! Not even an all-nighter can stifle those perfect blowouts.
Markle-cap, Week Five
Sound the alarms, because the departure narrative is out in full force! These lovebirds have been offered to run a new firm that specializes in important class-action lawsuits …
… and she wants them to consider it. For the children!
A plan is hatched to covertly steal some performance reviews from her father. Who is also an attorney!
But wait, bad news: There might not actually be a job offer anymore?
Or is there?! Things are moving so fast.
Markle-cap, Week Six (The Finale!)
Before getting a happy ending with her law boo, it's time to pioneer a class-action lawsuit against some criminal defendants.
At last, a late-night breakthrough about insurance policies!
The couple decide to take a new job in Seattle…
…and move their wedding up by a few months to make it happen!
They won the suit! Now they can get married!
Just kiss already, you cuties. Squee!
Godspeed to the happy couple as they jet off to the Pacific Northwest.