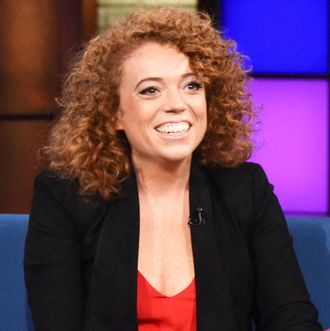 Michelle Wolf.
Photo: Scott Kowalchyk/CBS
As it goes with literally every single White House Correspondents' Dinner, a headlining comedian capped off the evening with some jokes — some people liked the jokes, or some people really didn't like the jokes. Daily Show contributor Michelle Wolf had the honor of making everyone giggle uncomfortably this year, and as expected, her set is divisive among attendees and viewers, with the main point of contention being the remarks she made about Press Secretary Sarah Huckabee Sanders. "I'm never really sure what to call Sarah Huckabee Sanders. Is it Sarah Sanders, Sarah Huckabee Sanders. Is it Cousin Huckabee? Is it Auntie Huckabee Sanders? Like, what's Uncle Tom but for white women who disappoint other white women?" Wolf said, in part, as a visibly uncomfortable Sanders looked on. "I actually really like Sarah. I think she's very resourceful. She burns facts and then she uses that ash to create a perfect smoky eye. Maybe she's born with it, maybe it's lies. It's probably lies."
Hours after she finished her set, Wolf has been forced to defend the jokes she made about Sanders, as many people are likening her "perfect smoky eye" remark to body-shaming. "Hey mags! All these jokes were about her despicable behavior," she tweeted in response to Maggie Haberman of the New York Times, who said the jokes double as "intense criticism" of Sanders's physical appearance. "Sounds like you have some thoughts about her looks though?"
Replying to additional criticisms from Mika Brzezinski, Wolf later added: "Why are you guys making this about Sarah's looks? I said she burns facts and uses the ash to create a perfect smoky eye. I complimented her eye makeup and her ingenuity of materials."
Wolf is also trolling some former White House employees, just for kicks.