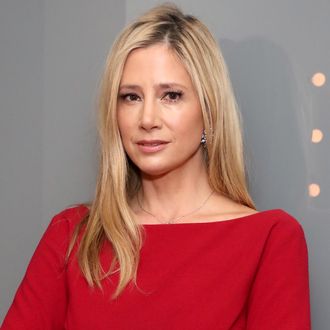 Sorvino.
Photo: Astrid Stawiarz/Getty Images for Tribeca Film Festival
This year's Tribeca Film Festival devoted an entire day to Time's Up. Of Saturday's nearly 30 panels, performances, and speeches, Lupita Nyong'o, Cynthia Erivo, "Feminist AF" host Amber Tamblyn, and Mira Sorvino gathered to speak about "reclaiming the narrative" in the arts. Sorvino, who accused Harvey Weinstein of harassment in one of Ronan Farrow's New Yorker reports, described her decision to speak with Farrow and take her story public. "My grandmother was the victim of domestic violence. We have some terrible stories in our family that I won't recount here that stuck with me my whole life," Sorvino said. "[With me, it's not] only the story that all of you guys know, but something that I've only just become conversant with: I was also assaulted when I was a teenager in a much more violent way. I buried it down deep. I did not get counseling." She continued:
All of a sudden, when this thing kind of came to me, when Ronan called and asked me to talk to him about the Harvey Weinstein situation, I decided — against all kinds of fear and terror — to come out and speak. All of a sudden, it became that I mattered. My own story, my own violation, my own violence … it mattered enough, that I needed to stand up for everybody else's. To stand up for myself might hopefully help other people take that step.
Sorvino name-checked #MeToo founder Tarana Burke, and thanked her for founding the original movement in 2006 for women of color who were victims of sexual violence. "The #MeToo as a movement has been following her work, but it's all been building together. A rising tide carries all boats," she said. "We're at this incredible moment, this watershed moment, where I feel like something that has happened to everybody I love, every woman I've ever met, many men, many LGBTQ people, many trans people, nonbinary people, children, old people [is getting attention.] Sexual violence has been here forever, and it's only now that we as a culture are cracking it open."