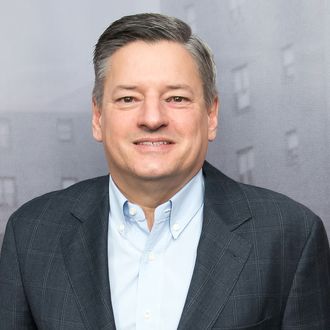 Ted Sarandos.
Photo: Mike Pont/WireImage
The ongoing feud between Netflix and Cannes rages on. Netflix's chief content officer Ted Sarandos confirmed to Variety that the streaming service will skip the prestigious festival altogether, following Cannes's announcement that films without theatrical distribution won't be allowed to compete. Speaking to Variety, Sarandos detailed the decision-making, but not without taking an opportunity to shade Cannes artistic director Thierry Frémaux. (Call Netflix by its name — as Cannes did in the ban announcement — and Ted Sarandos will call you out by yours.) "It is not a coincidence that Thierry also banned selfies this year," Sarandos said, bringing up another new Cannes rule. "I don't know what other advances in media Thierry would like to address."
The Netflix chief took more swipes at the French fest in the Variety interview: "I don't think there would be any reason to go out of competition. The rule was implicitly about Netflix, and Thierry made it explicitly about Netflix when he announced the rule," Sarandos said. And later: "[Netflix is] 100 percent about the art of cinema. And by the way, every other festival in the world is too."
While Netflix won't screen any films out of competition, Sarandos said several Netflix executives will attend to see films seeking distribution. Last year, despite boos from French audiences, Netflix's Okja competed for the Palme d'Or.