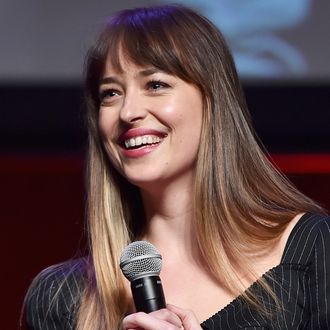 Johnson happily unleashes horrors on the CinemaCon crowd.
Photo: Alberto E. Rodriguez/Getty Images for CinemaCon
The annual CinemaCon is underway in Las Vegas right now, and attendees at the official convention of the National Association of Theater Owners are getting all kinds of treats not yet available for public consumption. There have already been first looks at M. Night Shyamalan's Glass, Spike Lee's BlacKkKlansman, and this evening director Luca Guadagnino shared a sneak peak at his upcoming Suspiria remake. According to the Variety report, the Italian filmmaker has pivoted to hard-core gore after the soft-focus dreamscape of Call Me By Your Name. In the scene that played for audience members, Dakota Johnson's Susie Bannion is practicing at the ballet academy, and as she dances the scene is interrupted by cutaways to another woman who is being torn into pieces, resulting in "a mess of broken bones, urine, spittle, and blood." Now just imagine all that set to a pulsing score by Thom Yorke. Sweet dreams!