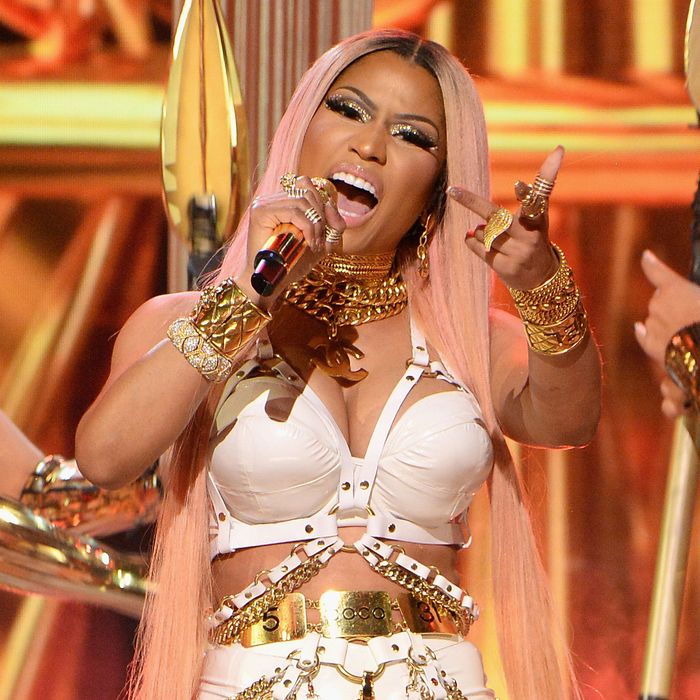 Photo: Kevin Mazur/Getty Images for TNT
Nicki Minaj's months-long media blackout ended in a flash yesterday as the rapper gave an illuminating interview to Beats 1 Radio and released the new songs "Chun Li" and "Barbie Tingz." On the surface, the new music offers a stimulus package for fans hungering for more after the string of guest features the chief Barb has given us since last year's release of "No Frauds," "Changed It," and "Regret in Your Tears." The new songs also show the Queens rapper gravitating toward a distinctly hometown sound. Producer Chevy Music's beats on both cuts revisit the crisp boom bap of bratty New York street rap classics like 50 Cent's "I Get Money," or more recently, Young M.A's "OOOUUU," although "Barbie Tingz" adds some chunky '80s drum programming vaguely reminiscent of Run-DMC's "Sucker M.C.'s" for dramatic effect.
"Barbie Tingz" features some of Nicki's coldest trash talk in a minute. "Mad bitches tell they team make 'em like Barbie / Had to come off IG so they can't stalk me / All they do is copy looks, steal music too / Want to see what bitches do when they lose the blue(print)." This will be received, at a minimum, as shade for Cardi B, who, as Nicki coyly noted in her interview with Beats 1's Zane Lowe, currently employs Minaj's hairdresser. The air of static between the two rappers is unfortunate, because it's not entirely either artist's fault. Cardi's year of radio visits included an unusual amount of asks about how she relates to Nicki, because rap radio guys' default questions for women revolve around which men they're sleeping with and which other women they're beefing with.
Eventually, one party has a bad day or simply gets sick of answering the same question all the time and says something snippy about the other. Cardi claimed that Nicki rewrote her verse on the Migos' "MotorSport," which features both New Yorkers as guests, and Nicki took it to mean her writing was being challenged, when it's not unusual behavior for an artist to redraft verses on a potentially huge single. (Cardi spoke graciously about getting pointers from Bruno Mars for her guest spot on his "Finesse" remix during a week-long battery of Invasion of Privacy press; Nicki has thanked Kanye West in the past for pushing her to give her best performance on his single "Monster.") Now, it seems like a beef that did not functionally exist before has been willed into existence by sheer force of public hunger for it.
The rap industry has a grueling double standard for its women. If they rap well, they're accused of having ghostwriters. (Somehow, the insinuation that Safaree wrote Nicki Minaj's music has survived the time he got roasted on The Breakfast Club for a terrible freestyle.) If they rap capably but a little unremarkably, they're accused of being terrible. If they rap about haters, they field prying questions about which of their peers they're skewering. (Guys like Drake get to fire dozens of shots on every album without naming names, and pretty much everyone rhymes about stealing people's girlfriends with very little pushback.) If they dress provocatively, they're accused of selling sex.
There's nothing wrong with "selling sex" alongside music. Men do it all the time. Big Daddy Kane, one of hip-hop's undisputed, all-time greats, once did a spread in Playgirl. Snoop Dogg once directed, produced, and soundtracked two porn flicks. I can't think of a popular rap album that doesn't contain at least a dozen lines about the artist's sexual prowess. When men do this, we sing along. When women do it, we become puritanical schoolmasters. Rap Twitter is currently embroiled in a suffocating argument about Nicki Minaj "selling sex" because she popped a squat in a Fendi bikini on the "Chun Li" single art, but when Future talks about spending checks "on some pussy" and pawns off exes and one-night stands as "groupies" and "throwaways," it's relatable art. It is a deep-seated and very specifically American confusion, an offshoot of the same mentality that animates men everywhere from Hollywood to Hollis, Queens, to insinuate that promiscuity is disreputable behavior and that provocative dress is pretext to sexual assault.
But 2018 is already proving to be a special year for women in hip-hop, because there are several of them at different stations in the mainstream making great music. In New York City alone, we've got Cardi dominating the Hot 100, Nicki consistently making Billboard chart history, Azealia Banks designing devastating ballroom anthems, Young M.A making strides for fearless women who are proud of their love of women, and artists like Princess Nokia and Maliibu Miitch speaking their minds on a local level. Elsewhere in the country and overseas, Cupcakke, Jean Grae, Stefflon Don, Tink, Kash, Asian Doll, DreamDoll, Cuban Doll, and countless others are hard at work. Everytime we see an outpouring of talent like this, the old itch for drama sets people sniffing for sneak disses and hints of discord. Where it doesn't exist, constant needling eventually invents it. Where it can be prevented, no one steps in to cool it. (I'm disappointed in Quavo from the Migos, who, as Nicki told Zane, was asked to calm tension between Nicki and Cardi around "MotorSport" and refused. All night on Thursday, literal dozens of Twitter dudes told me that it's not a man's business to navigate a woman's dispute. But when the man's business is rapping, and the woman is a guest on his album … it is by textbook definition his business.)
This combative climate creates moments like "Barbie Tingz," where a rapper has to clear the air by shaking some tables. It's good for Nicki, because the song is a certified banger, but I would rather live in a world where we didn't play Rock'em Sock'em Robots every time we see two women getting money. Imagine a new "Ladies Night" or "Ladies First," a hit single where modern women got to celebrate their friendship instead of having to point out why they aren't or can't be friends. It's possible, but it will take work. It will take a deep examination of our confused expectations for women, not just in hip-hop, but in America at large.
It shouldn't be work to admit there are classes of citizens that get held to different standards, especially in hip-hop, a cultural outgrowth out of a community branded by this very feeling of otherness, but 2018 suffers under such a drought of self-awareness that we aren't even supposed to say bigotry is racist. The bottom line is: If you want more and better art from women, pay it forward and celebrate talent where you see it. Dispel rumors when you hear them. Challenge yourself and your peers to be better stewards and allies. Help create the parity the culture currently lacks. 2pac said a rose can grow through concrete, but if we work at it, we can give them a garden.