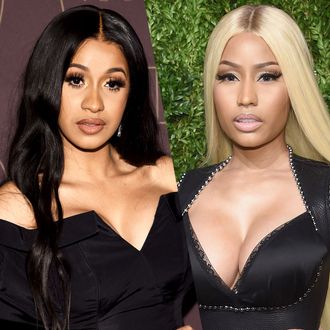 Yikes.
Photo: Getty Images
While Cardi B has been saying the rivalry between her and Nicki was fan-made, Nicki now says it had legs. Though the two are cordial now, Nicki tells Zane Lowe in an interview for her new songs that the two got off on the wrong foot. It all stems from a song they did with Migos, "MotorSport," which was originally a collaboration with just Quavo and Nicki. Later, after the rest of the Migos were added, she says Quavo texted her asking if Cardi could also have a verse on it, which Minaj says she approved (and still has the receipts to prove it). However, that's not the story she says Cardi or Migos told after the fact. "The only thing with Cardi that really, really, really hurt my feelings was the first interview she did after 'MotorSport' came out. With 'MotorSport,' I kinda felt ambushed," she says. "The first thing that came out of her mouth about a Nicki Minaj feature was 'she changed the verse' … When it was time to clear the air about that, no one did that. All of them allowed me to look like I lied."
She also clarifies the reason she and Cardi did not film together for the song's music video was because of a scheduling conflict due to them both using the same hairstylist. "I said to him, 'You know if I don't show up, they're gonna think it's because I'm doing it to be mean' … They [Migos and Cardi] all knew that and still did interviews and jumped around it just to paint Nicki as the bad person so you could play the victim. That really, really, really hurt me because I really supported her."
Though Cardi recently cleared the air about their tension and both agree there is no existing feud, Minaj notes, tearing up, that the damage has been done: "Up until this recent interview that she did, I had never seen her show me genuine love. I could just imagine how many girls wish they could have been on a song with Nicki Minaj. I'm not saying in it a cocky way, but yikes … It's because of the Nicki hate train that she felt like she could speak about me in that manner." However, Minaj adds that she doesn't hold grudges (noting that she's even forgiven Azealia Banks) and has no bad blood with Quavo.
Update: Minaj got on Twitter this afternoon to further air out her feelings regarding the "MotorSport" verse Cardi B says she changed. It seems like these hard feelings aren't quite so far in the past after all.