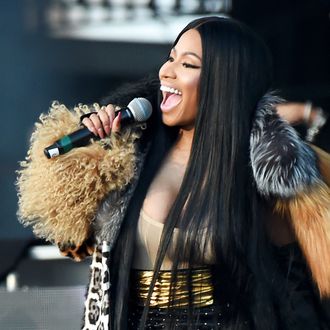 The wait is almost over.
Photo: Nicholas Hunt/Getty Images
Nicki Minaj's long hibernation between albums appears to be coming to an end. After two days of teasing a countdown to something, with deleted tweets, Minaj has announced she's dropping not one but two new songs on Thursday afternoon — "Barbie Tingz," a nod to her fans, and "Chun-Li," named after the Street Fighter character. Young Thug has also been teasing that he's involved, though it's unclear if he'll be featured on either song. These two songs could mean that Minaj's fourth album is finally imminent following her social-media blackout since December. She hasn't released an album since 2014's The Pinkprint, and these are her first non-feature songs since last year's Remy Ma diss track, "No Frauds," as well as "Regret in Your Tears," and "Changed It," all released as one-offs. And while it may seem like curious timing less than a week out from Cardi B's album, Cardi has previously dismissed any rumored tension between the two as fan-manufactured drama only, so put the beef back on ice.