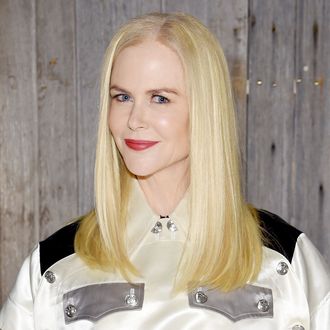 Kidman.
Photo: Jamie McCarthy/Getty Images
A little less conversation, a little more book-to-film adaptions made by female acting powerhouses: Nicole Kidman will be starring in a film adaptation of Meg Wolitzer's new novel, The Female Persuasion. Per Entertainment Weekly, Kidman will star in the lead role as Faith Frank, an older feminist on a college campus who begins to mentor a younger student, only for her teachings to become a bit divisive once her true colors begin to shine through. (We called Female Persuasion one of the hottest books to read so far in 2018.) Kidman teased the adaptation on Instagram last week, saying how she "didn't need to be persuaded to join forces with two extraordinary women on adapting this brilliant and timely novel!"
There isn't a tentative release date for the adaptation yet, so support a local business and by the novel in the meantime, okay?