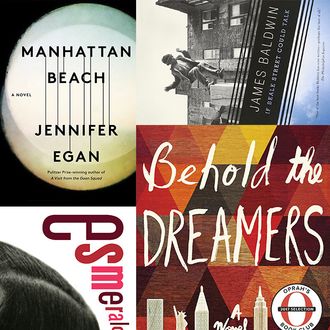 We've reached the final day of voting for the 2018 One Book, One New York contest, and the standings are close. How close, you ask? Wouldn't you like to know. Suffice it to say, today's voting may well determine which book — from the field of Manhattan Beach by Jennifer Egan, White Tears by Hari Kunzru, Behold the Dreamers by Imbolo Mbue, When I Was Puerto Rican by Esmeralda Santiago, and If Beale Street Could Talk by James Baldwin — will be the one everyone in New York (and the world?) reads this summer. So your participation is important.
But, you wonder: What if you haven't read any of the books? Should you abstain from voting and let the informed electorate decide? Of course not, no democracy has ever worked that way. Instead, we put together this overview of the attributes you might be looking for in a book to read this summer. Once you have a sense of which one seems your speed: Go vote!
So, here's the book to choose if you like …
… short reads.
If Beale Street Could Talk is the shortest book of the bunch — it clocks in at a breezy 197 pages.
… more of a commitment.
With 416 pages, Behold the Dreamers is the longest of the lot, perfect for a couple summer weeks' worth of commuting.
… stories told from the point of view of a child.
The memoir When I Was Puerto Rican follows Esmeralda Santiago's vivid depictions of childhood on her island home, until she moves to Brooklyn at the age of 13. Her disorienting transition to life in the city is ultimately a coming-of-age masterpiece.
… stories that follow privileged adult children.
Well, then, White Tears is more your jam.
… debut novels that announce the arrival of brilliant new writers.
Behold the Dreamers is Imbolo Mbue's first book, and it's already a New York classic. We can't wait to see what she does next.
… a true classic from a brilliant (deceased) writer.
May we introduce you to James Baldwin? (It would be our honor.)
… ghost stories.
White Tears is wonderful and terrifying in its depiction of the haunting of a couple of avid record collectors who specialize in rare 1920s blues albums — the sublimation of the pain of black Americans.
… uncomfortable realism.
Beale Street is so real it's chilling.
… to read the book before you see the movie.
Moonlight writer and director Barry Jenkins's motion-picture adaptation of If Beale Street Could Talk is forthcoming, so you could be ahead of the curve by reading it now.
… to read the book, and then wait awhile before you see the movie
Scott Rudin owns the film rights for Manhattan Beach, so it could be next.
… descriptions of glamorous New York food and drink experiences.
Go to Manhattan Beach for drinking bubbly in a fancy nightclub.
… descriptions of not-so-glamorous New York food and drink experiences.
See Behold the Dreamers for eating leftover Chinese food on Christmas.
… descriptions of sacrilegious New York food and drink experiences.
Check out the bozo at the deli in White Tears who orders pastrami on a croissant.
… immaculately researched historical fiction.
In Manhattan Beach, Pulitzer Prize winner Egan sets the time and place so thoroughly — Brooklyn, World War II — she tried on a 200-pound diving suit — similar to the diving equipment the young woman at the center of the story wears to repair warships in the Navy Yard.
… intimately researched historical nonfiction.
When I Was Puerto Rican is a memoir, so much of the research that Esmeralda Santiago did was to place her remembrances within specific historical moments.
… haggling for fake Gucci totes in Chinatown.
Behold the Dreamers is the story of Jende and Neni Jonga, Cameroonian immigrants who make a new life in New York, and it doesn't take much time at all for Neni to engage in one of NYC's chaotic rites of passage.
… strategy games in the Square.
If you're looking for pivotal scenes set in more iconic locations, check out White Tears' action at the chess tables in Washington Square.
… that magical feeling when spring comes to New York.
There's a wonderful scene in Behold the Dreamers that describes the invigorating energy that spreads through the city during those first warm days of the season.
… New York summers, you masochist.
Beale Street is nothing if not accurate in describing that terrible smell that plagues the city during the hottest days of the summer.