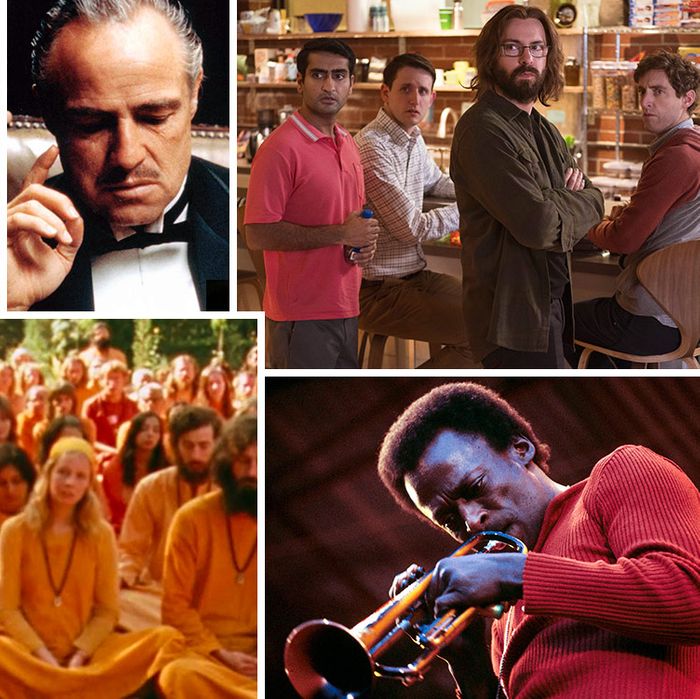 Some of the One Book, One New York writers' many interests and influences.
Photo: Paramount Pictures/Netflix/HBO/Getty Images
How do the experiences, opinions, and habits of great writers influence what appears on the pages they produce? To find out, we posed ten questions to the five writers involved in this year's One Book, One New York contest: Jennifer Egan for Manhattan Beach, Hari Kunzru for White Tears, Imbolo Mbue for Behold the Dreamers, Esmeralda Santiago for When I Was Puerto Rican, and screenwriter Barry Jenkins (who is adapting James Baldwin's classic If Beale Street Could Talk for film). Their books embody the best and worst of life in New York, so we asked them to tell us more about writing, reading, music, and, of course, their subway stories.
Also! We're in the final week of voting for which of those books you think the city — and world — should read, so be sure to vote here.
1. What's your favorite place to read in New York?
Jennifer Egan: In warm weather, I love to read outdoors — on park benches, at lunch tables, or, if I'm home, on a lawn chair. I also love to read in bed, especially in the morning, but that's a pleasure I've rarely indulged since having my first son 18 years ago!
Barry Jenkins: I could tell you, but then it would no longer be mine!
Hari Kunzru: The Rose Reading Room at the NYPL.
Imbolo Mbue: My living room couch, late at night.
Esmeralda Santiago: "Favorite" limits my choices. I read whenever and wherever I have a few moments, whether a paper book, an electronic reader, or my phone, all of which are with me at all times. I read on queues waiting to enter a theater, or to buy my lunch at a bodega. I read on the subway. I read in cafés, restaurants, in waiting rooms, in the ladies' room at Saks Fifth Avenue. I read in bookstores and in taxis, in the Grand Central ticket holders' area, in libraries, in elevators and in parks. When the city itself becomes overwhelming, I find a spot and read, leaving behind this world to enter another where it's just me and the author.
2. What's the worst and/or best thing you've ever experienced on the subway?
Egan: The worst was recently, when a droning insect the size of a small bird flew into my subway car, sending people lunging in all directions to avoid it. It flew directly into my head, got stuck in my hair, and then seemed abruptly to disappear. I was convinced for the rest of the day that it was in my backpack or on my person.
The best was a time I saw someone reading Goon Squad. Our eyes met, and she looked amazed. When a spot opened next to her I sat down and we had a lovely conversation. Turned out we knew people in common. We exchanged email addresses, and it was like finding an old friend.
Jenkins: People give up their seats on the train more often than the city is given credit for. I smile every time I see this simple gesture.
Kunzru: Most of the worst things involve body fluids. A spontaneous dance party on the L was probably the best.
Mbue: The kindness of strangers quickly standing up to give me their seats whenever I entered the subway pregnant.
Santiago: Worst: Men exposing themselves. Best: The kindness of strangers toward the old, the handicapped, the lost, the seemingly exhausted who need to sit.
3. When you're staring at a blank page, what tricks do you use to get started?
Egan: My trick is always the same: I allow myself to write badly. It's amazing what can happen if you give yourself that permission —besides the obvious outcome of a lot of bad writing. Sometimes, without warning, something good happens.
Jenkins: I just start. There's no tricks really, at least none that I've found. If I'm truly stuck, I outline a path forward (skipping the things that are blocking me!).
Kunzru: Doing errands. Washing up. Writing email. Checking Twitter. Deciding to cook elaborate lunches.
Mbue: Are there any tricks to it? I would love to hear one.
Santiago: I close my eyes, breathe for a few minutes. I envision my characters/protagonists. I call their names and ask for permission to tell their stories. Most of the time they give me an image or an event that becomes a scene.
4. What's your favorite book-to-movie adaptation, and why?
Egan: The English Patient. I loved the book, and I loved the film, which managed to more than compensate, visually, for all of the interiority it lost in moving from page to screen.
Jenkins: The Diving Bell & the Butterfly. Because Julian Schnabel's adaptation takes Jean-Dominique Bauby's memoir and creates a truly cinematic experience that retains the full power of Bauby's interior life.
Kunzru: Recently, I'm going to say Inherent Vice. P.T. Anderson really got Pynchon, which is near-impossible to do on screen.
Mbue: Something tells me it'll be the movie adaptation of Never Let Me Go, when I do watch it.
Santiago: Mario Puzo's The Godfather was made into two fantastic movies (I, II). The book was compelling, but the film raised the stakes for the characters, provided extraordinary production values, and made us care about The Family and family. The book and the films humanized Italian immigrants by giving depth and color to the trope of Mafia gangsters. GI and GII are two of my favorite films ever.
5. What's your favorite NYC bookstore? How would you describe your relationship to it?
Egan: Greenlight Bookstore, down the block from me in Brooklyn. I feel that we're collaborators in the project of selling my book and other books we all believe in. I've attended a book group there, interviewed other writers there, and signed my own books for people all over the country who've ordered them there. I also love to browse; it's a beautiful, light-saturated place, and I always make discoveries. I buy most of my books there.
Jenkins: McNally Jackson. I don't live in New York, so this is a tough question to answer. I linger in the magazine section here often when I'm in New York. It's a safe space.
Kunzru: I think picking one would be a cruel betrayal of all the others. Several of my favorites have closed down. My "local" is Greenlight in Fort Greene, and I'm always happy in there.
Mbue: Book Culture on Columbus Avenue.
Santiago: I no longer live in NYC but remain a fan of the Community Bookstore in Park Slope. When my daughter lived a couple of blocks away, we had our weekly mom/daughter visits, getting some coffee, browsing and buying.
6. Who are a few new authors you're excited about?
Egan: I'm a little behind on new stuff, having been immersed in 19th- and early-20th century fiction for several years now. I admired Lisa Halliday's Asymmetry. Next I'm excited to read Erica Dawson's epic poem, WHEN RAP SPOKE STRAIGHT TO GOD, which will be published by Tin House. And I'm listening to Christine Mangan's Tangerine, which is really eerie and fun.
Jenkins: Durga Chew-Bose, Michael Thomas, Katharine Noel. And playwright Branden Jacobs-Jenkins!
Kunzru: I'm about to read two new books by the poet Anne Boyer. She should be better known. There's an Argentinian novelist called Ariana Harwicz. Her novel Die, My Love, has just been translated. I think that's her first book in English. The Icelandic novelist Sjon isn't new, but I just got a proof of his new book Codex 1962, and I'm excited to read that.
Mbue: Neel Patel, Wayétu Moore, Nana Kwame Adjei-Brenyah, all of whom have debuts coming out this year.
Santiago: I'm very excited about Puerto Rican author Edmaris Carazo, who has just published her first novel (in Puerto Rico, in Spanish) and who has a clear and fierce voice. I also am excited by the work of Icelandic author Hallgrimur Helgason, whose novel Woman at 1,000 Degrees was published in English earlier this year. Long after I read it, the story and its prickly protagonist has stayed with me. I also loved Imbolo Mbue's Behold the Dreamers.
7. What are you currently watching?
Egan: I watch very little TV, but I just watched the first season of Silicon Valley with my younger son and totally enjoyed it. The creators have turned interpersonal awkwardness into high art! And there was one scene that made us scream with laughter — no small feat!
Jenkins: I recently finished Wild Wild Country. I watched it twice. It's mesmerizing.
Kunzru: I have enjoyed Wild Wild Country, the documentary about what happened when the Rajneeshees came to Oregon.
Mbue: I recently got Netflix and watched The Godfather parts one and two. Everyone was right.
Santiago: I'm currently watching the Sunday night series on Starz based on Howards End. On Monday nights I watch The Terror on AMC, and on Tuesday, Trust on FX. While on the treadmill, I've also been watching the new series on Netflix Troy.
8. What's the New York-iest moment in your book?
Egan: One contender would be when one of my protagonists, a 19-year-old girl, enters a nightclub for the first time and is overcome by the roar of banter and glamour.
Jenkins: A simple ride on a crosstown bus with our heroine Tish. It's peak Baldwin.
Kunzru: The central character's landlord changes the locks on him.
Mbue: Two characters having a conversation one evening in Columbus Circle about New York City being the center of the world.
Santiago: I think my audition to Performing Arts High School is one of those "If you can came it there, you can make it anywhere" moments. It required bravery from me to audition for PA and a lot of vision and generosity from the teachers who ultimately voted me in.
9. What would the soundtrack to your book be?
Egan: Benny Goodman.
Jenkins: Miles Davis and Nina Simone. Horns and worn voices. A busker inspired by Miles or Nina playing underground, the rumble of the train approaching. That's what I hear when I hear Beale Street.
Kunzru: It's a book that's all about music, mostly 1920s and 1920s blues. I have a Spotify playlist here:
Mbue: "Idiba" by the late Cameroonian great Francis Bebey. Or a soft makossa song by any of the fine musicians from my beautiful homeland.
Santiago: When in Puerto Rico, the boleros and cha-cha-chas of Bobby Capó and Felipe Rodriguez. In NYC, Salsa (El Gran Combo, La Lupe, Eddie Palmieri, Ray Barretto) and Motown, especially Aretha Franklin.
10. What's your favorite sentence from your book?
Egan: One that some people have liked, of that same 19-year-old's first taste of Champagne, is: "When she took a sip, it crackled down her throat — sweet but with a tinge of bitterness, like a barely perceptible pin inside a cushion."
Jenkins: Thankfully, I did not write this book, which makes this pull a bit easier: "I hope that nobody has ever had to look at anybody they love through glass."
Kunzru: Do writers really answer that?
Mbue: Since I can't quote the whole book, I'll go with the first sentence: "He'd never been asked to wear a suit to a job interview."
Santiago: "There are guavas in the Shop & Save."