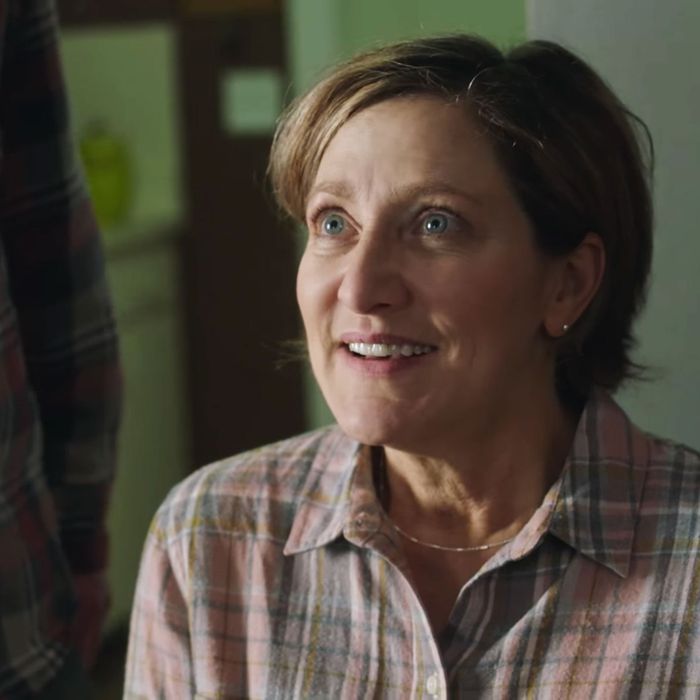 Edie Falco in
Outside In
.
Photo: The Orchard
Outside In is a love story featuring a great variety of loves. It's the story of an ex-con (Jay Duplass) who returns to his small Washington hometown after 20 years in prison, bringing back his personal effects and a huge torch for his high-school teacher Carol (Edie Falco), who advocated for and was eventually instrumental in getting his early release. The central relationship of Lynn Shelton's film is many things at once: maternal, platonic, and at times, very much not platonic. But through it, the nature of what it means to care for someone else, romantically or otherwise, is thrown into relief in multiple relationships, even if that means some people don't get what they want.
The long phone conversations and prison visits have already taken place before the film starts; Falco and Duplass awkwardly and effectively convey the bond of two people who have been through something life-altering enough to override their own differences in age, experience, and point of view. Carol is some 20-plus years Chris's senior, but the age difference is in fact even greater psychologically — Chris was barely out of his teens when he was convicted for his role in the murder of a convenience-store clerk. Duplass spends his days riding his BMX through the rain-soaked streets in floppy cargo pants and a hoodie, an overgrown teen with an overgrown teen's romantic sensibility. Carol, meanwhile, is stuck in a loveless 25-year marriage and is alienated from her moody teenage daughter Hildy (Kaitlyn Dever). She's already dreaming of a second life, while Chris never really started his first.
While Chris pines for Carol and Carol tries to find a way to sustain their relationship appropriately, Chris begins the arduous process of reentry into society, and tries to figure out how to text, while coming to terms with his long-repressed resentment of his brother, Ted (Ben Schwartz). Hildy, seeing the fellow troubled teen in him, forms a bond with Chris, and through that friendship, Hildy and Carol creep toward an understanding. More relationships are fixed in Shelton's film than ruined, and she proves there's plenty of drama in that process.
The tourism board of Washington State isn't going to be sending Shelton any thank-you cards anytime soon, but her depiction of Granite Falls as a kind of perpetually soggy settlement constantly on the verge of being overtaken by brilliant, emerald-colored moss, is nothing if not evocative. Nathan Miller's cinematography is lo-fi and intimate for the most part, with interludes of crisp visual poetry in between the dialogue. This is an conversation- and character-driven film with an occasional eye for something more ineffable, but Falco and Duplass's complicated, nakedly searching performances are the main event.