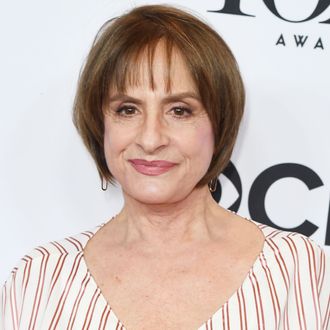 Patti has thoughts!
Photo: Angela Weiss/AFP/Getty Images
Patti LuPone, never one to hold back about anything (and especially her thoughts on movie stars), has arrived at a new opinion. Speaking at an event for Marianne Elliott's upcoming gender-flipped production of Company in London, LuPone decided it was time to tell the world what she really thought about Uma Thurman's performance in The Parisian Woman, which opened last fall, and what she really thought was that she was not good! The Guardian describes LuPone's feelings thusly:
"I don't necessarily need to see film actors on stage," she said. "Can I just say … Uma Thurman in The Parisian Woman, anybody seen it? [Raising her eyes and speaking slowly] Holy shit! I'm sorry, I'm sorry."
Vulture's Sara Holdren called The Parisian Woman "both sleepy and barely woke" and said of Thurman "on film she's a fascinating and often powerful actor, but here in her Broadway debut, she can't transcend the flatness of the material she's been given." All in all, that's still a lot less harsh that Patti, who also added "I'm not sure there is a stigma any more (about film actors doing theater), perhaps there should be." Bada-bing!