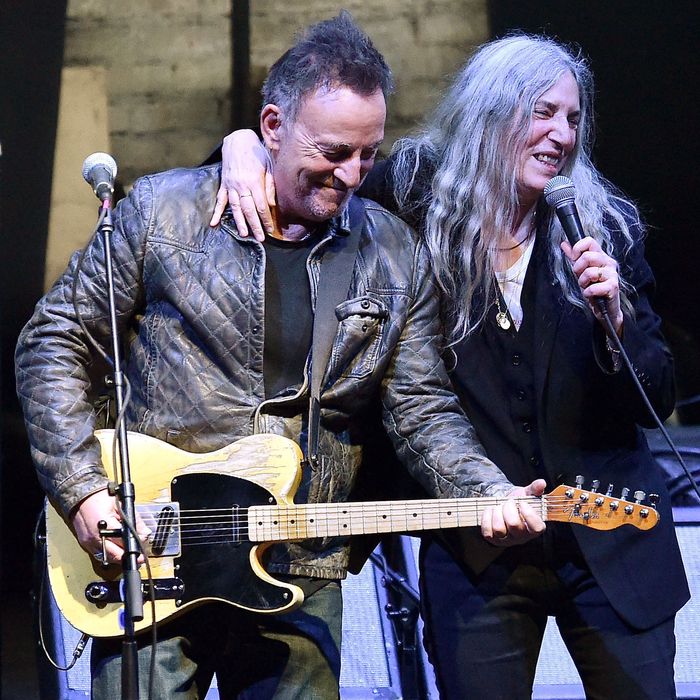 Bruce Springsteen and Patti Smith.
Photo: Theo Wargo/Getty Images for Tribeca Film Festival
Following last night's Tribeca Film Festival premiere of her new tour documentary, Horses: Patti Smith and the Band, the 71-year-old punk icon took the stage of the Beacon Theatre. Along with her touring band (Lenny Kaye, Jay Dee Daugherty, Tony Shanahan, and Jackson Smith), Smith emerged from behind the screen with an opening performance of her 1979 song "Dancing Barefoot."
It got political from there, naturally — Smith saluted the Parkland Five, saying, "We have to be with them. Pray with them, march with them. Their cause is our cause. Their cause is our future," before delving into her version of Buffalo Springfield's classic antiwar song "For What It's Worth." After playing a few more hits — and responding to a heckler by, mysteriously, explaining that when she has to pee and there's no bathroom around, she just uses a "tin can" — Smith paused to thank her band and the festival. "And I wanna thank … this fella," she added. And Bruce Springsteen sauntered out.
The two old friends performed "Because the Night" together, which Springsteen wrote for Smith in 1978. "This song always makes me think of three men," Smith said. "Fred 'Sonic' Smith, who inspired it; Jimmy Iovine, who produced it; and Bruce Springsteen, who wrote it."
A few moments later, Smith introduced another friend, and out trotted a fresh-faced Michael Stipe. Before the final song, Smith gave another call to arms: "We are moving into a new time. I look at our young people to lead us. Five individuals can inspire, but it is the millions, the people, that make change. People, we have to make change, now!" And then all three rock legends brought down the house with a lively rendition of "People Have the Power."