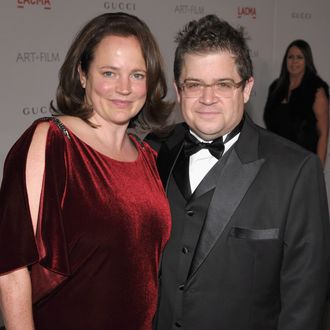 Patton Oswalt and Michelle McNamara.
Photo: John Shearer/2011 Getty Images
On Wednesday, police apprehended a man they suspect to be the Golden State Killer, a serial killer and rapist who terrorized California communities in the 1970s and 1980s. The mystery went for decades without a suspect, but there was a renewed interest in the case with true-crime writer Michelle McNamara's book I'll Be Gone in the Dark. The book was released in February, nearly two year after McNamara had died — it was finished posthumously by an investigative journalist and a researcher hired by her husband, the comedian Patton Oswalt.
According to The Hollywood Reporter when the authorities were asked at a press conference if McNamara's book helped the investigation, they responded that it had not.
Oswalt disagreed with the officer. He wrote on Twitter:
It did, but #MichelleMcNamara didn't care about getting any shine on herself. She cared about the #GoldenStateKiller being behind bars and the victims getting some relief. She was Marge Gunderson in Fargo, not Chilton in Silence of the Lambs.
He also claimed that the police "never" give credit to writers or journalists for helping to solve a case. He noted, however, that because McNamara was the one to rename the serial criminal as "The Golden State Killer" (the murderer was previously known as the East Area Rapist), he felt that her work had been vindicated. "Every time they said #GoldenStateKiller they credited the work of #MichelleMcNamara and #IllBeGoneInTheDark," Oswalt wrote.
Earlier in the day, as news broke that the police had arrested the suspect, Oswalt tweeted, "I think you got him, Michelle."