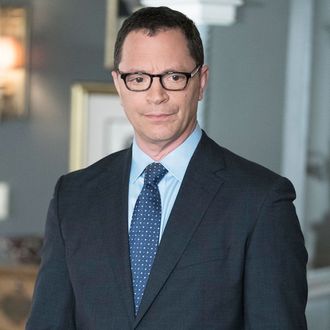 Malina.
Photo: Eric McCandless/ABC
Joshua Malina, Scandal's amiable, bespectacled Attorney General David Rosen, has been having a bit of a dour post-series finale press tour since the episode aired on Thursday night. For one, his castmates savagely pranked him by making him believe he gave a Shondaland-loving old woman a fatal heart attack. And, you know — to address the dying elephant in the room — his character suffered a pretty gruesome death, thanks to a fatal combination of poison and pillow-smothering. A death scene that, much to his chagrin, had to be filmed a lot. "We did that death 17 times," Jeff Perry, who portrays Cyrus and did the murdering honors, told Vulture at the Scandal finale table-read event in Los Angeles. "I said, What's your safe word? and he said, How about, you're killing me?"
As to how Malina himself feels about meeting his (fictional) maker, he has but one word: "Bad." But, grateful regardless. "Having made it to the finals, I famously was always concerned about dying and I let my guard down," he joked. "To my delight, Shonda did call me the night before to tell me and then I started to get excited about the idea, how and who." Today, gladiators, we toast to him.
Additionally reporting by Antonia Blyth.