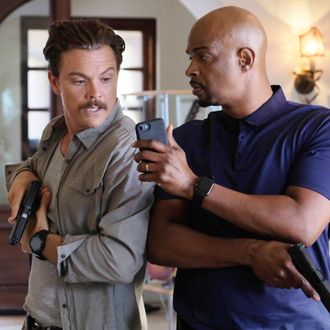 Crawford and Wayans.
Photo: Darren Michaels/FOX/Fox Broadcasting Co.
Following Lethal Weapon star Clayne Crawford's admission in a social-media message that widespread reports of his toxic on-set behavior were not exaggerated, Deadline is expanding on the circumstances surrounding these blowups. Specifically, the outlet is now reporting that one of the two reprimands Crawford experienced this season actually involved the show's other star, Damon Wayans, whom Crawford only identified as "an actor" in his apology message.
The incident reportedly occurred between the duo during a recent episode Crawford directed, when the episode "had been behind because Wayans had called in sick the first day." Wayans was then sent home the next day after he was hit by shrapnel, and when he ultimately returned to set, he "set limitations to what he was willing to do in the episode, even if it was in the script, including not holding a gun or running down stairs, citing safety concerns." This apparently lead to a not-so-nice confrontation with Crawford, who used "strong words" as a means of taunting Wayans. While it doesn't sound too dramatic in theory, Deadline reports that it escalated to the point where "the high ranks of the studio" had to be alerted to the issue, and Crawford and Wayans's relationship is now nonexistent offscreen.
Crawford's behavior, as previously noted, is putting the future of Fox's Lethal Weapon in jeopardy. While the series has consistently drawn solid viewership numbers, the network has yet to renew it for a third season, owing to Crawford's behavioral issues. In fact, Fox is reportedly seriously considering recasting him with a new actor if the series indeed returns in the fall.