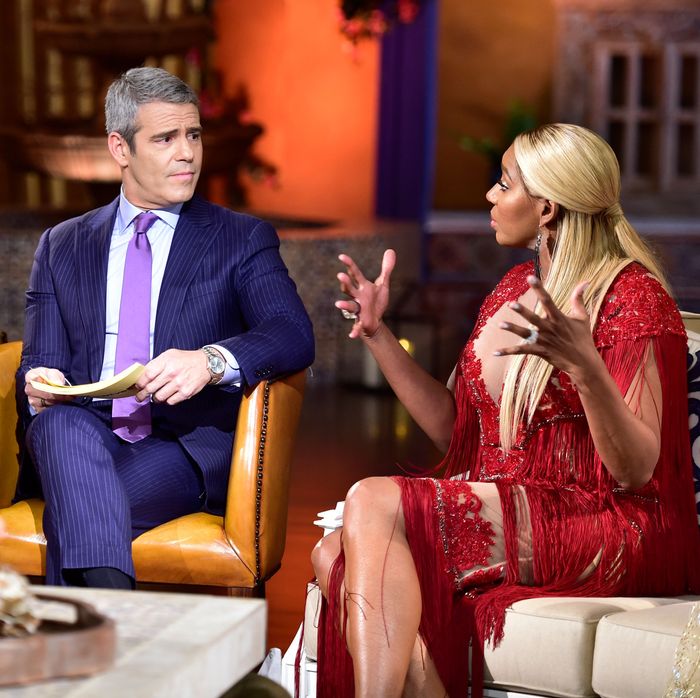 Photo: Bravo/Moses Robinson/Bravo
Tonight is the night. These titans, these giants face off against each other. There is nothing to hold them back and they're laying it all on the line. If they win, they keep their jobs and if they lose, they might be gone forever. The entrances. The outfits. The low blows. This show has it all. It's not Wrestlemania. It's The Real Housewives of Atlanta's reunion. Even though this season felt pretty slow and the drama was petty, there still is a good amount of shade to be thrown here. Unfortunately, Andy started burning through the good stuff right at the top. Is Porsha sorry? Is Kenya pregnant? Can Marlo pronounce the word "bond"? If you ask me, the answer to all three is "No." Let's get into it.
We start the episode with Andy milling around backstage with the ladies and there's a clip of Andy talking to Tyrone on the phone. I desperately hope we get more of that and I know we will. Andy catches up with all the ladies: Kandi just finished her run on Broadway in Chicago, Cynthia is 51 now, and NeNe has taken to calling herself "Elder Leakes." For some reason, that immediately made me think of a Handmaid's Tale–type dystopian future where society is controlled by aging Real Housewives.
Right away, Andy asks Kenya if there's any word of a "Baby Twirl" and Kenya stutters out a yes. Y'ALL. If someone says, "Are you pregnant?" and you're really pregnant, your answer isn't "Is that a question?" There ain't no baby, right? I mean, c'mon. They asked her how far along she is or when they could expect a baby and she said, "Late this year." Like the baby is a single. "We got a baby dropping at the end of the year!" Kenya can't even talk like a mother. She says she doesn't want to give too many details and get past a "safe place." Kenya. The whole thing is women won't publicly announce until they've reached a certain point. Not half-announce it on a reality-TV show reunion and then walk it back when people start asking questions.
The first topic of conversation is a montage of everyone's looks and wigs. It's fun to see the era when the wigs really kicked into overdrive. Kandi also went through a "rooster phase," according to one of the "fan" questions. Andy takes the fashion montage to ask Shereé when She by Shereé will be dropping. Her answer "Joggers. Lifestyle. Probably more September." We'll see Baby by Kenya before She by Shereé.
Up next is a montage of Kandi and her successful year. She tells Andy that she was annoyed with Todd for bringing attention to Porsha at her Essence cover party. Porsha was annoyed that Kandi said that she wanted to show her cover to her haters, including but not limited to Porsha. Kandi also says that what Porsha did could have ruined everything she worked for. Porsha's argument is that she "apologized," accepted Kandi's invitation so Porsha was ready to move forward.
HERE IS WHAT I THINK THE PROBLEM IS. Well, several problems. I genuinely don't think Porsha thinks what she did was all that bad. It's unclear if she knows that accusing someone of trying to rape her is "bad."  She probably thinks it was just a cheap move, but everyone pulls cheap moves. Beyond that, Porsha probably thought that it was all part of the job. That was her job. To talk shit and try to get under the other women's skin. Every other time, they more or less reset between seasons and taping and everyone gets invited to everything so it must be okay, right? But when it was time to film the new season and no one wanted to fuck with her, she just couldn't understand. And because they can't tip their hat too much about filming and it being a reality show, she just can't come out and say that. And she's a petty bitch who can't even pretend to apologize to save face.
A good apology isn't "I ALREADY APOLOGIZED!" It's "I did something bad. It hurt you and was wrong. I apologize for my actions." Porsha keeps wanting to talk about her part in all of it instead of just apologizing. She thinks that a sincere apology is lowering herself in front of everyone and that's just so tired. Be an adult and apologize even if you don't mean it. We all do it.
Marlo joins the group and Andy asks Marlo about her friendship with Kenya. Kenya launches into an attack on Marlo about her alleged "relationships." Kenya tries to embarrass Marlo by asking her about John. Apparently, he's a john named John. Which is the title of the worst children's book. Kenya is someone obsessed with what everyone thinks of her and putting out the right image but unfortunately, Marlo will not be shamed or embarrassed because she's an alleged … um …  "party girl" on national television in head-to-toe Gucci. You can't make a bad bitch feel bad.
Kenya says that Marlo has a Square reader between her legs and Square chimed in about it on Twitter after the episode. Imagine trying to explain that to someone in 2005.
It's time for Kenya to explain why Marc married someone who is on a reality show when he hates reality shows. Kenya also demands a level of privacy for her marriage that she never gave anyone else. You can't ask someone who follows their own cuckoo logic to explain something and have it make sense. This bitch tried to say she had a baby dropping later this year. Why even ask? (I thought for a second Kenya might be having a baby with a surrogate or adopting, BUT WHY WOULDN'T SHE JUST SAY THAT?) She also says that she's only met his parents over the phone. Girl. This marriage is … something. Then she tries to deflect attention from herself by saying that everyone knows that Cynthia can't keep a secret. Cynthia is supposed to be your real friend! Don't do that to her! Kenya tries to say that any rumors of Marc hating reality shows was created by blogs and Andy says, "He said that to my colleagues." Oh, Kenya.
Porsha is back in the hot seat again. This time to explain why she told Shamea that Shereé wasn't to be trusted. Porsha tries to make it about the plates and some other bullshit. Shereé says that even if Porsha were able to apologize for her actions, everyone is sitting here listening to Porsha justify her actions.
Then everything shifts to Shereé and to be honest, I'm only like 75 percent sure what is happening here. Everyone just keeps yelling, "Bone collector! BONE COLLECTOR!" at each other. It's a great acting exercise to make everyone say the same thing with a different intention. NeNe tells Shereé that all this "bone collector" bullshit makes her look terrible and Shereé thinks she looks great! Then everyone wants to know why Shereé doesn't ever check Kim or bring out Kim's bones. Shereé claims that Kim is the only one who's ever loyal to her and the idea of Kim having a moral center or loyalty is pretty damn good. NeNe wants some more answers about Shereé and Kim. Luckily, we'll only have to wait a week for Kim to give us those answers.