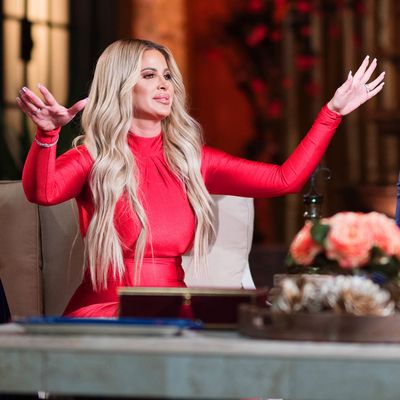 Photo: Bravo/Moses Robinson/Bravo
After last season's explosive reunion, Bravo probably felt like they had to deliver something good, so why not serve Kim up on a silver platter to the Housewives? But it says a whole lot about season 10 that this reunion finale is devoted to someone who isn't even a peach-holder. Did they really not have enough for an interesting season, or was everyone holding onto that much anger and confusion for Kim? It's both, and that didn't make for a particularly riveting end of a lackluster season. But let's get to it because there are still some fun lines and a bathroom tête-a-tête between Kim, Kroy, and Andy.
The third part of the reunion opens with Kim and NeNe shouting at each other at a specific shouting frequency that induces anxiety in my heart. It's hard to remember exactly what everyone is fighting about.
Why can't anyone just say, "We don't fuck with Kim like that anymore"? Underneath all her jokes is an attempt to discredit or demean the Housewives and she is completely unable to listen to anyone throwing shade back. It's a perfectly reasonable stance to take, but, of course, it doesn't make for good television. Even in the rest of the Housewives' darkest or most hypocritical moments, they're still willing to participate. Kim wants to show up when it suits her and expects everyone to kiss her ass. Her in a bathroom crying to Andy Cohen (the only other white person on that set) that she didn't get a single positive question is like this chocolate mousse I made for dessert BECAUSE IT IS RICH.
Andy decides to take a little bit of heat off of Kim and puts it on to Shereé by asking her about Tyrone. We couldn't get Tyrone to Skype into the reunion with everyone? I would love all the women huddled around a laptop like the world's worst conference call. Andy asks if Shereé is engaged to Tyrone and Shereé says that she's ready to get engaged when he gets out, but she's also dating other people and if he doesn't get out in less than two years, she's done. Wait … Shereé? I thought this man was the love of your life and it didn't matter that he was a criminal. But all of that is conditional on him getting out of prison when you want him to get out?
Also, my favorite moment is when Shereé says that she knows Tyrone's character and he's a good man but he committed wire fraud. That's not a crime you can do ACCIDENTALLY. It's not a crime of passion. It's wire fraud.
Shereé says what's she's doing is better than dating a married man and that gives NeNe another opportunity to come after Kim. Kim says that NeNe met Gregg when he was a married man. NeNe says IF that were true, they've been married for 20 years. Being married to your husband for a long time doesn't erase any infidelity … if it were true.
Then Andy basically sets up an opportunity for everyone to air their grievances with Kim. Most of Kenya's issues with Kim are from last season. Kim and Kenya both agree that kids and husbands are off limits and then a montage rolls of them taking shots at each other's husbands and kids.
Kim seems to think that everyone is jealous of her and Don't Be Tardy. She's the only one with a spin-off and the only one with a skincare line that made $15 million.
Yeah. Kashmere Kollections made $15 million. According to Kim. FIFTEEN MILLION. If that bitch made $15 million last year, you'd think she'd have a better cup to drag around everywhere.
Then it's time to dive into the John Legend ticket tweet. Andy plays a clip of John and Chrissy on Watch What Happens Live and John is VISIBLY uncomfortable with a woman pimping out her 21-year-old for tickets to his concert. I mean, he's great and all, but he's John Legend and not Beyoncé.
Also, Cynthia comes out smelling like roses after this reunion too. She came up with the roach costume idea and everyone wanted to hook up with 50 Cynt.
Andy asks if it was okay for Kim to accuse NeNe of being on drugs. Her reply is that NeNe was acting weird, so that's the same thing. Then she says that Kandi said she had a drinking problem. Kim, you carry a Solo cup everywhere you go and you ask your husband to drive you everywhere so you can drink. That's like the definition of a drinking problem. Again, it's somehow cool for her to "joke" about it but no one can joke about her.
There's some kerfuffle about someone suggesting that Kandi wanted to hook up with Kim. These bitches need to stop suggesting that their only bisexual (or bi-curious) friend is trying to sleep with them them. No one is trying to seduce you like that. Besides, if Kandi wanted to, she could.
It's finally time to bring up the roaches. Andy says that there might be a – hmm, how do we put this delicately? – racist overtone to the way Kim brings up the roaches in NeNe's home. Andy also keeps saying, "Roaches are a metaphor for racism." Is he a student in one of my sketch writing classes?
Kim says, "Racism? You're referring to?" and "You're reaching," which is what a racist person would say. Everyone lays out exactly how roaches may not exactly be a metaphor for racism, but they definitely strike a nerve when a white lady loooooooves to bring up the roaches in a black lady's house and keeps a video of the alleged roaches.
Everything that Kim says she didn't do, there's a clip proving otherwise. It's like the "There's a tweet for everything" of reality television.
Kim finally storms off, then Andy asks if there's any possibility of a Kim and NeNe reconciliation. NeNe replies:
"NOOOOOOOOOOOOOOOOOOOOOOOOOOOOOOOOOOOOOOOOOOOOOOOOOOOOOOOOOOOOOOOOOOOOOOOOOOOOO."
After the reunion wraps up and everyone shares something they've learned, Kim drags Andy into a bathroom to cry that no one had anything positive to say about her and her kids. Bitch, your kids aren't on the show. You came in to stir up trouble. If you want something positive, stick to the reunions for Don't Be Tardy. Shereé comes into the bathroom to calm her down. Kim also claims that they can't find another white woman to be on The Real Housewives of Atlanta because the other Housewives are so mean.
Ma'am. Once Kim started talking that bullshit, Shereé shut up real quick.
Kim then goes on to say, "Put yourself in my shoes. I'm there with five African-American women. This whole racism thing in this day and age is bullshit. They all owe the world an apology. They tried to claim that a while ago. There wasn't social media and racism wasn't all that real."
Um. WHAT?
And then the season just … ends? Bye?