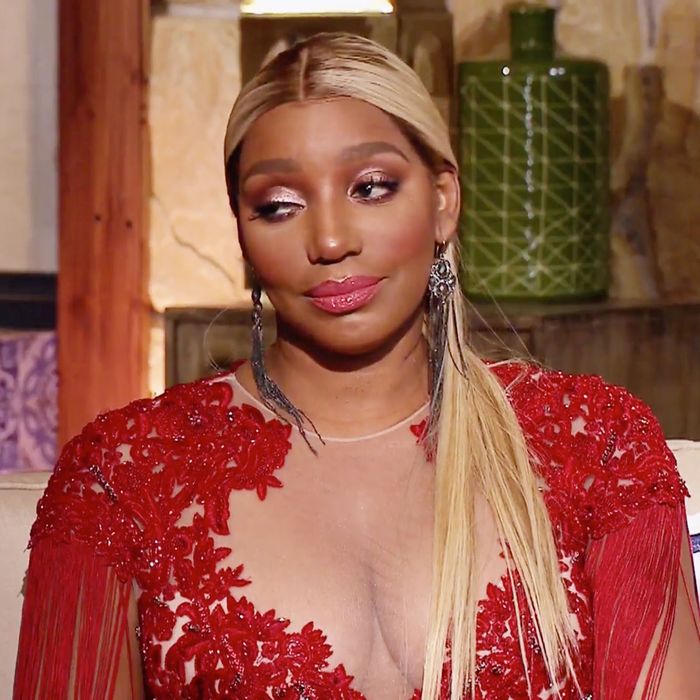 "Mama, tell me the story of the night I was born."
"Of course, honey. I was laying down on a couch in a makeshift dressing room made of hotel pipe and drape, waiting for Andy Cohen to summon me to a ballroom. I put on my ballgown and went to confront model Cynthia Bailey about her weird ex-boyfriend. Then I rushed to the hospital and now I have you!"
Despite the fact that RHOA had Kim and NeNe finally sitting on a reunion couch together and a woman in labor, this was a middling reunion. There were a few threads we had to wrap up before it was time to get Kim out there. And I'm going to be honest with you: I'm not enamored with this current iteration of the Kim and NeNe feud. What drove the two to a screaming match? Kim took a picture of NeNe's car? NeNe, you got kicked off your friend's tour by telling someone to go get raped. Maybe put things into perspective and let this shit with Kim slide.
Let's get to it.
Andy opens the reunion by wrapping up Marlo's segment, asking her why she was chasing Porsha around the Halloween party and also asking exactly what's up with her criminal past. She was chasing Porsha around the party, trying to get her to speak to Kim, and she's only got two charges. Well, two or three. The most interesting thing is when Andy asks Marlo where her money comes from. Marlo claims that she used to date a billionaire and he bought her a house and she's invested her money well. She's the sole proprietor of Simply Marlo, LLC. I'm not sure what good they produce or service they provide, but what I do know is that her official website directs to her Instagram.
Porsha's lie comes up again and she says she's tired of everyone using it as a silver bullet against her. I mean, it's a damn good bullet. She says that she tried to put herself out there, but the group wasn't ready and Kandi wasn't ready. Instead of trying again or leaving the door open for a reconciliation, she just pretended that it never happened. Porsha says that she went to Cynthia and had a one-on-one conversation about it in San Francisco. Cynthia corrects her that Cynthia actually came to Porsha.
Porsha says, "To-may-to. To-mah-to," and Cynthia says, "Po-tay-to. Po-tah-to." You can actually see the wheels turning in Porsha's head as she parses out what Cynthia said to her. Then she says, "Oh, that's what it is." Porsha is impossibly dumb.
Kandi calls her out one more time for her half-assed apologies and she says what's really at the heart of the issue. They all name-call and throw shade, but Porsha decided to repeat something way more serious than making fun of someone's wig. Porsha bursts into tears when someone mentions her doormat, but yeah, saying someone wanted to rape you is somehow just light shade.
Porsha finally says that it was all a bad choice and she wishes she wasn't a part of it. She finally apologizes for the situation without a "but." Kandi doesn't want it coming up again, so she accepts Porsha's apology.
Kenya asks for a cocktail and NeNe says under her breath, "You're pregnant." I printed out that moment and put it on my "Kenya Mystery Pregnancy" board.
It's time for a little break and Shereé goes back to say hi to Kim. Shereé says that they're all asking her to hold Kim accountable.
Andy tells them they all have to get back on set if they want to leave by daybreak. Sometimes, I like to imagine that Andy is not a man wrangling reality stars, but a descendent of Van Helsing doomed to be the designated driver for otherworldly creatures.
The topic of conversation turns to NeNe and her struggles this year. Kandi makes excuses for NeNe's behavior onstage by saying, "Comedians say a lot of inappropriate things. I didn't take it the same [as what Porsha said about me]." Yo, I teach comedy and I would yell at my students for joking about getting raped by an Uber driver. And it's gonna be real hard for everyone to keep extending Kandi the space to be upset at Porsha if she's only mad about rape comments when they're said about her.
Oh, there's something else everyone can agree on and it's that they're not going to call each other prostitutes (unless someone is a prostitute).
Eva shuffles onto set between contractions. Since the season ended, she got engaged and Andy wants to know if her fiancé is happy about her being on the show. He asks if Eva's fiancé can convince Marc Daly to come around on the show.
Then there's more of this strange psychosexual drama about everyone being attracted to Kandi. I want these women to just deal with their feelings and admit that if they are gay or even gay for each other, that would be totally fine. In fact, it would probably be amazing television. I'd watch a bunch of women in their forties and fifties figure out their sexuality and come out and come together. GOD DAMN. That sounds like a good TV show.
Andy asks Eva why Shamea couldn't ask her about her sexuality but Eva could ask about Will. Y'all, Shamea worked her hardest to do what everyone wanted. She asked about Missy Elliot, she helped build a house in Houston, and this bitch ain't even at the reunion. Eva just says that Shamea was repeating a rumor and making it about what her fiancé wants and Eva saw Will.
In the end, Cynthia and Will aren't together and they never even slept together. In my experience, a pretty boy is never worth the trouble, bangwise. Cynthia has a new dark-skinned boyfriend, so let's move on.
Kim shows up with her shoes and her Solo cup in her hand. This Solo cup thing is no longer cute. At least get some kind of branded cup. Quit giving Solo the publicity. Andy asks her what's the end game for her lips.
Andy first calls Kim out for saying that Cynthia is lucky she's beautiful or she wouldn't have gotten far. Kim tries to play it like it was a compliment. She also gives Cynthia the "compliment" that she has no backbone.
Then NeNe and Kim turn their sights on each other. They just start screaming "WHO GIVES A FUCK?" at each other. The answer is "Clearly you bitches." It's all about the picture of the car and they show a few clips of Kim saying she did see NeNe at the mall. Don't they have better drama? Get to the better drama! They each start calling each other jealous and trash. NeNe gets up and is looming over Kim. Okay, part three of this reunion might be pretty good.