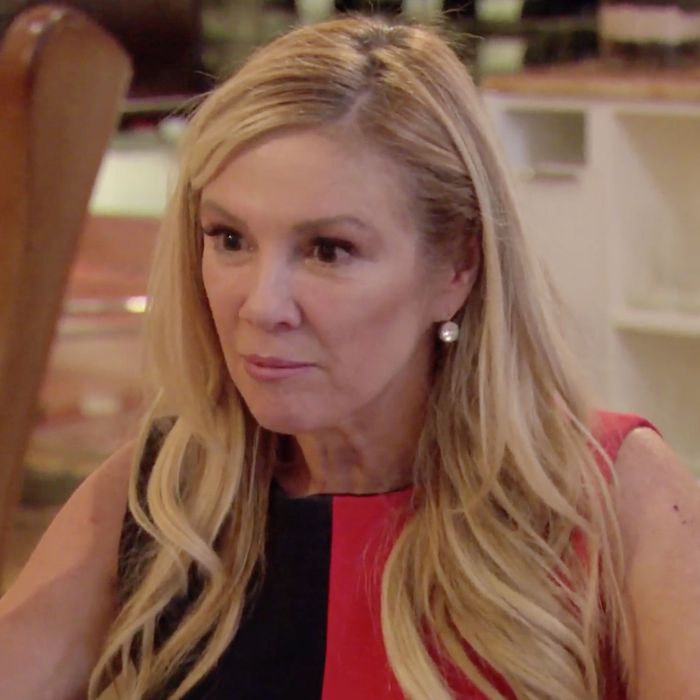 Real Housewife Ramona Singer.
Photo: Bravo
There are so few things that we can rely on in this world, but Countess Luann de Lesseps D'Agostino Crackerjacks lovably making an ass of herself on national television week in and week out is certainly one of them. This episode starts with all of the Housewives debating just how tasteless her dressing up as Diana Ross for Halloween was. Dorida says it was on the "verge of being insensitive," Carole calls it straight up "blackface," and Trump supporter Ramona doesn't seem to have any problem with it whatsoever. According to her, there are good people on both sides of this debate.
To make things worse, Luann later shows up to dinner with Tinsley wearing something that seems to resemble cornrows. She might as well have been twerking in a Miley Cyrus video considering her level of cultural appropriation in just these two episodes. Then she tells a story to Tinsley that is just perfect in its zany Countessness: Her husband was in Morocco doing the Rally of Morocco, as one does, and she showed up to surprise him dressed as a "Moroccan princess." Okay, so this isn't a new thing then. Money can't buy you class, but it apparently can buy you a whole lot of racially inappropriate costumes.
This is an odd episode because the women never hang out in a big group, only in pairs (and one lunch with Ramona, Tinsley, and Carole) as they triangulate all the conflicts that we're going to deal with this season. Tinsley serves in a proxy war for her new BFF Carole and tells Luann that Carole's three-year relationship is deeper than Luann's seven-month marriage. I have to agree with that. I especially loved when Luann says that she "respects their relationship" about 17 seconds after calling him a "toy boy" and just days after telling Carole that she's having "an affair with my niece's boyfriend." I haven't seen anything more respectful since the Sean Mendes armpit-sniffing video.
I also agree with Tinsley's point that Luann needs to address the Tom of it all. Tinsley thinks that Luann is being too withholding about her feelings. Even if Luann is really emotional about her divorce and processing what happened, she should say that and be honest. Instead, she's like, "I don't want to talk about it anymore." Sorry, she can't take that path when the only thing she wanted to talk about for the last two seasons was Tom.
Then we have something between Dorinda, Tinsley, and Sonja Tremont Morgan of the Belvedere Guest House for Men Morgans. Dorinda meets up with Sonja to go "on a walk" (everyone's doing a lot of walking these days) and they start talking about Tinsley. Sonja just starts spouting off at the mouth about how she doesn't understand why Tinsley would want to leave the warm confines of her townhouse to go live alone in a hotel. I can tell you why: because Sonja treated her like crap when they were living together. The whole time Tinsley was there, Sonja wanted her gone and now that she's gone, she can't see why she left. I don't get it.
To make it even worse, Sonja — who looks amazingly Upper East Side in a coral dress with a matching sweater tied around her neck and a very tasteful alligator handbag — then says that Tinsley's ex-boyfriend is paying all of her rent and bought Sonja the Bergdorf's gift card that Tinsley gave her as a "Thank you, fuck you" at the end of last season. Naturally, Dorinda, the queen of the scratch-off lottery tickets, tells all of this to Tinsley when they have lunch and they start banding against Sonja.
SMIFFEE (which stands for Sonja Morgan Is my Favorite Floozy for Ever and Ever) but Sonja has really taken it too far this time. Usually there is a way to justify her Nigerian soccer teams and Diddy going on her yacht and partying with John John and Madonna in Gstaad. But there is no way to justify this at all. Even if she heard that Tinsley's man is paying for all of this stuff, why bring up your friend's business on camera so that she will have to talk about it for the next 19 episodes? I don't mind when she's a bit daffy and delusional, but these days she seems almost malicious.
Then Sonja has one of her Wednesday-night parties for "my gays" that she's been throwing for about 12 years now. Why is this the first we are hearing about it? And I'm just generally offended by it. First of all, everyone needs to stop saying "my gays" forever. It's cool to have a group of gay friends and like to hang out with them, but they are not your gays. They are the Lord's gays. These days they might even be Cardi B's gays, but first and foremost, they are their own gays.
Also, never say that you are a "gay man trapped in a woman's body." That is just the tritest, silliest thing. That's like me saying, "I'm a vegan trapped in a fat carnivore's body." I mean, just be who you are and hang out with who you want to hang out with. But what offended me the most is that I have yet to be invited to one of these soirees and, honestly, it looks really fucking fun. There is a really good mix of young gays and old gays, uptown gays and downtown gays. Even RuPaul's Drag Race contestant Aquaria shows up with a red-suited friend of hers and rubs butts with Sonja.
Ultimately, this is really an episode about the women on their own. Bethenny shows up at one of her seven properties (the number keeps growing every week) and it's right next to her new office. Then she shows up to the fully furnished new office and just rips it all to shreds, telling them to get rid of photos, a golden roller skate, a bowling pin, and some red tuffets that, let's be honest, not even a one-legged drunken gnome would sit on. Bethenny looks better than she ever has, especially in that smashing grey suit, but this is just the latest stop on the Bethenny Frankel Unlikeability Tour 2018. Next stop, the Hamptons!
Carole is also on her own, finally running the New York Marathon that we've heard so much about for, oh, it's only been two episodes. Never mind. Carole goes to the big event on Staten Island with her ex or whatever Adam and also runs into Heather Thomson, who is running the marathon as well. The chyron on the screen reads "Heather, Carole's friend." Um, she served her time in the trenches and this is the best that they could do for her? We couldn't get "Former Housewife and 'Holla!' shouter Heather Thomson" or something? She deserves better.
The best part of the whole marathon sequence, though, is when Tinsley, the only Housewife in attendance, shows up and has to put on a plastic parka to keep the rain out. When it goes over her head, she makes a face like she's just been stepped on by Godzilla and eaten someone else's booger by mistake at the same time. It is utter horror, disgust, surprise, and a little bit of giddy revulsion.
Then we see Carole chug, chug, chugging along, shedding her layers and barely able to function. She tells us that her knee was throbbing and her joints ached, but there was something that just kept driving her toward the end. Her face had a combination of confusion and resigned anguish that was almost paralyzing to watch. But still she persisted and she finally crossed the finish line while her friends and family cheered, a few tears slipped out, and she wanted to collapse into a breathing hamburger bun right there on the wet pavement of Central Park. I teared up a little bit, if only for the insane six-hour accomplishment that was her run.
As Carole wrapped herself in a tinfoil cape weighed down by her participation medal, her friends all clasped their arms around her and they walked toward the subway to send Carole back to her apartment, back to her bed, where she would nurse her sore joints and bloody nipples and probably not move for the next 72 hours. Behind her, under the stifling drizzle, under the thumping yellow leaves, under the shaking aluminum bleachers erected temporarily, hid a red-haired woman with a leopard-print umbrella. She watched Carole the whole way, following her on the internet. She watched Carole finally win, her body looking like a waterlogged scarecrow. There was nothing she could do this day. "Good job," Jill Zarin said in a voice so faint it sounded like the disappearing fog of warm breath on a cold window.