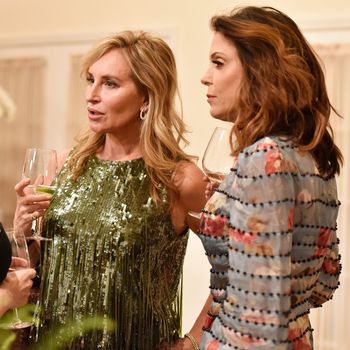 Photo: Bravo/Eugene Gologursky/Bravo
I will never not be amused by Sonja Tremont Morgan of the Morgan's Organic Dog Hair and Food Dye Morgans. I could spend an entire hour watching her walk to the Jitney (a Jitney is what white people call a bus) and being buffeted about by the winds while carrying too many Louis Vuitton bags, an unnaturally colored dog, an unnaturally colored bouquet of flowers, and what has to be at least four different pairs of her "readers." I could spend almost as much time watching her change her underwear, hike up her pants, and pack for a weekend with Lulu, her "former" assistant who still seems to be working off some sort of indentured servitude.
I mean, here is a woman who has a "friend" in the Hamptons to pick her up from the bus station — sorry, Jitney Depot — just to drive her to her car. This is a car, mind you, that she keeps in the Hamptons, a place where she doesn't even have a home. Sonja T. Morgan leeches so many free weekends in the Hamptons, where she goes into her friends' closets and wears any old thing she can get her mitts on, that she keeps her one and only car out on some dude's farm and he just, like, watches it for her and chauffeurs her around. What about all of this is not completely amazing? Other than the wearing your clothes while visiting, that is, which is a sure way to get bed bugs, scabies, and never invited back.
But, man, has my beloved Mx. Morgan really stepped in it this season. Everyone just seems to have it out for her, mostly because she goes running her mouth off about other people. Tinsley is pissed at her for telling Dorinda that Tinsley doesn't pay for anything. Dorinda and Carole are pissed at her for the same thing and being "nice nasty" where she says mean things with her beleaguered smile so that people won't hold her accountable. Bethenny, well, she's too busy feeling slighted and thinking about all of her "properties." Luann is the only one on Sonja's side and that seems to be because no one else is on Luann's side at the current moment either.
Things really blow up with Sonja at brunch at Luann's house when Ramona and Dorinda come over. It all starts when Sonja says that Ramona "loves them hard and leaves them easy." Sonja's biggest problem is that she expresses herself poorly. What Sonja means is that Ramona flirts with dudes to get something out of them and then leaves them when they are no longer convenient. We see that in this episode when Terrance Landman, an artist without a website, shows up to loan Ramona some artwork to see if she wants to buy it. She promptly puts him and his friend to work moving furniture around her house, reinstalling the electronics, and unpacking her luggage like she has done on so many past trips. She hasn't even bought any of the artwork yet, and then she sort of rips it to shreds right in front of his face after he was kind enough to serve as her pro bono schlepper for the better part of an evening.
Sonja was trying to comment on this behavior — a sort of behavior that is later proven, again, when Ramona talks about forcing guys to open the door for her — but what Ramona and the others heard is that Ramona sleeps with all of these guys and then leaves them. We know that's not true. Ramona is way too narcissistic to give other men pleasure for their favors. She might let them eat her out and then configure her Sonos, but she's not going to let any of them actually bone her.
Dorinda uses this misunderstanding to go in on Sonja and make a "sweeping statement" of her own, which is basically a tirade about having dinner with her ex-husband in Heaven. It's supposed to be a roast of Sonja and her "Gstaad, updo, yacht" braggadocio, but it just comes across as mean. I love Dorinda as much as the rest of you, but I don't like when she does this, just being relentlessly cruel to the women directly to their faces. What she's doing is no better than the "nasty nice" she accuses Sonja of doing.
But Dorinda is also right. A giant SMIFFEE to everything that follows after this. Sonja does make these grand sweeping statements, but that is part of what is fun about her. They should all know not to take them so seriously. However, like Dorinda says, Sonja needs to live in the present and stop talking about her divorce, her lawsuit, her daughter going off to boarding school, and all of her other perceived maladies. All of these matters are long settled and Sonja needs to figure out what a life without adversity looks like. She needs to figure out how she can be herself and not be a martyr at the same time.
Then Dorinda says something about her husband dying and, well, that is when Sonja loses all of us. Comparing herself to Dorinda and her dead husband is just not going to go over well. No no no no no no no. That's something that everyone should know is unacceptable, like a white person dressing up like a black person for Halloween. It ends with Dorinda railing against Sonja for her husband leaving her because she was sleeping around the South of France and, let me tell you, it's not a good look for either of them. Clearly, Sonja is getting the bitch edit this season and she has a lot to gird her loins for, so get ready.
Speaking of girded loins, can we talk about that super hot guy who works at the Sag Harbor hardware store? Why can't we get a Below Deck–esque show about that barrel of monkeys? Oh, sorry. What I meant to say was the Countess also needs to get ready for this catastrophe of a season, but so far she's acquitting herself nicely. It is really winning when she and Bethenny have a moment at Bethenny's birthday dinner where Luann admits, "You were fucking right," about Tom. They laugh and hug and Luann opens up about how hard it was for her to move on and admit that she was wrong. She then says something similar to the table and adds that she's not ready to talk about Tom quite yet and asks them to respect that. Yes, Tinsley might have been a little mean by telling her to issue a statement like that in the last episode, but the message comes through loud and clear. I think the Countess acknowledging the philandering elephant in the room is good for everyone.
The other feud we need to keep our eyes on is whatever is happening between Carole and Bethenny. Like everyone says, Carole is seemingly much more willing to clap back at Bethenny than she has been in the past. I think that isn't a bad thing because Bethenny's strategy has always been to be louder and meaner than everyone else until they eventually have to listen to her. Carole seems a bit immune to this, or at least sick of it. This all simmers up at Bethenny's birthday dinner when Sonja expresses her anger that she sent Carole a nice email about finishing the marathon and all she sent back was, "Thx." Luann says she got a "Thanks" but Bethenny says she didn't get a response at all. Carole then has to set the record straight and they both take out their phones to show the (read) receipts.
The chilliness between the two continues the next morning at brunch, where Carole and Tinsley titter together while Bethenny (in a gorgeous sweater) feels left out, like the third nipple that is supposedly somewhere on Marky Mark's back. She has a much more fitting "bestie" in Tinsley, who is as single and low-key as Carole is. As Bethenny says, Carole likes someone who can be around all the time, and with her businesses and child, Bethenny hardly is that person. I just can't wait for this to turn into a full-on fight.
As befitting their new friendship, Carole and Tinsley are staying in a hotel in the Hamptons together. Say what now? They're in a hotel, Sonja is taking the Jitney, what kind of low-budget Hamptons trip is this? I expect more from these ladies. Somewhere across town, while all of these women were ripping each other to shreds over bellinis and green juices, there was a woman padding around her beachfront property in a pair of well-worn Sketchers, the kind that look like two bicycle helmets for the feet. She was cleaning and puttering about, looking out the huge plate-glass windows on to a pool and then on to the ocean, as the scum-colored autumn waves kept crashing into the shore as the last few wisps of beach grass held onto their uncertain sand.
She heard the noise, not from the women fighting, but from her husband letting out a light snore on the couch. He was dozing, his head propped up on a leather pillow and his glasses placed gingerly on the floor. She thought about waking him up so that they could go on their own walk, have their own brunch, maybe a little squabble of their own. But no. Not now. She picked up the cashmere throw that was draped over the top of the sofa and spread it out over him, tucking it in a little bit underneath him, but not so hard that it might wake him. A little bit longer, Jill Zarin thought. Just a little bit longer.